Most "collabos" on 1990s teen drama 90210 involved Dylan McKay's estrogen-stirring hairdo, Brenda Walsh's fawn-like eyelashes, and an unsupervised pool at a Beverly Hills mansion (wink, wink, cough, cough).
But the creators behind the CW's current 90210 revamp have something even better in store for fans: "Soldier," a musical collaboration between N.E.R.D. and Santigold, featured on the show's season 2 soundtrack album, available now.
The soundtrack also features a Raconteurs/Adele cut — plus tracks from Jet and OK Go.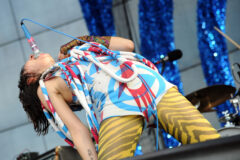 With glitchy effects and lo-fi dancehall beats, the tune sounds more like the soundtrack to a 1980s video game than a banger from the guys behind hip-hop hits from Jay-Z, Busta Rhymes, and Snoop Dogg.
But that's the charm. Like the Contra and Super Mario Brothers soundtracks, this puppy grows on ya.