An hour into David Gray's show Friday night at Boston's Citi Wang Theatre, there was a nice surprise: Despite the heavy flow of chilled Chardonnay, there hadn't been a single audience call-out for "Babylon," Gray's ubiquitous hit from 2000 that catapulted the British singer/songwriter to international acclaim.
And when Gray finally unfurled that anthem mid-set, giving it a breezy makeover flush with acoustic guitars and light percussion, the audience frothed into a spirited but seated sing-along.
The show — which at times was gloriously unhinged but far too often as buttoned-up as the band's matching dark suits — kicked off Gray's new tour for Draw the Line, his first studio album in four years.
The tour finds Gray at a commercial crossroads, especially in this country, where his fame was essentially fleeting after he broke through with 1999's White Ladder. With nearly a decade of dust on it, that seminal record clearly paved the road for the rise of other heart-on-sleeve UK acts like Coldplay, Damien Rice, and Keane.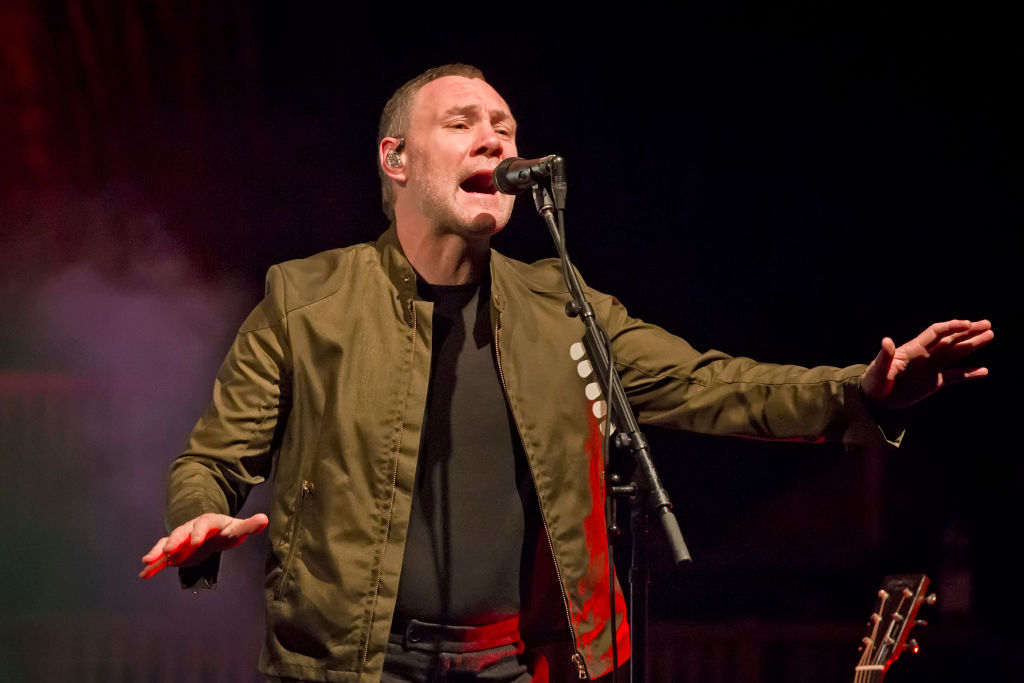 Gray, however, moved away from that electro-acoustic sound almost immediately after his star dimmed a few years later, perhaps sensing that its expiration date was perilously approaching. Draw the Line, his strongest effort since White Ladder, puts him back in the safe confines of introspective folk-rock, and it's a sound that suits him.
Emerging from the darkness to the narcotic strains of Phosphorescent's "Cocaine Lights," Gray and his backing quartet opened with a pair of songs from the new album, "First Chance" and "Fugitive." Always a resolute singer, Gray was in fine form right out of the gate, flexing his tinny voice in tight harmonies with his bandmates.
It was startling to remember just how many hits "White Ladder" yielded: "Sail Away," "This Years Love," and "Please Forgive Me."
As solid as the band was, less was more for Gray, who sometimes struggled with creating a sense of dynamics. The songs were often so relentlessly pleasant, you just wanted him to dirty them up with a stray minor chord or a detour in the arrangement.
When it was just Gray and his backing guitarist or bassist, there were welcome moments of transcendence. During "Slow Motion," a mirror ball (or at least half of one) cast little slivers of light all around the theater, as if emulating the falling snowflakes mentioned in the song's chorus.
Gray launched into "The Other Side" alone at the piano, and when the band finally kicked in, an alchemy that had been missing the entire night suddenly took hold. Almost as if in a trance, Gray wailed the chorus like a wounded animal. It was a jarring rendition of a shopworn hit, the sole moment when the show finally flashed its teeth and pushed Gray into visceral territory.
That electric peak couldn't quite sustain itself with the encore, a spare musical adaptation of William Butler Yeats's poem "The Song of Wandering Aengus." Though subdued, this was almost as touching as "Nemesis," a new song that hinges on a beautiful, chiming guitar line. The mirror ball once again came to life, this time flickering on the faces of a full house that had been moved to its feet.
SETLIST:
First Chance
Fugitive
You're the World to Me
Slow Motion
Kathleen
Sail Away
The One I Love
Ain't No Love
Draw the Line
Flame Turns Blue
Babylon
Be Mine
Jackdaw
Everytime
The Other Side
ENCORE:
The Song of Wandering Aengus
This Years Love
Nemesis
Please Forgive Me