It was like the indie rock prom, and they were the king and queen. Ben Gibbard, 33, whose lovelorn laments helped make Death Cab for Cutie one of the decade's bigger bands, and Zooey Deschanel, 29, doe-eyed star of independent films and co-star of the band She & Him, got married this weekend near Seattle, a rep for Deschanel confirmed to People.
Engaged at the end of 2008, the couple dated for a year before Gibbard popped the question. While details of their nuptials remain private for the moment, Deschanel did open up her engagement party to the cameras of Bravo's Top Chef Masters earlier this year, where celebrity chefs cooked vegan dishes for Zooey and her friends and family.
The wedding came during a rare lull in both artists' careers. Death Cab recently wrapped up a period of extensive touring in support of their chart-topping 2008 album, Narrow Stairs, with a string of July shows that included a fireworks-laden gig at the Hollywood Bowl.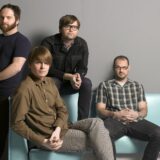 Soon, Death Cab will appear on the soundtrack to Twilight: New Moon, out October 20. Their song, "Meet Me on the Equinox," is streaming now via MySpace.
While her latest film, the indie rock soundtracked (500) Days of Summer, was playing in theaters this summer, Deschanel (along with Gibbard) popped up at Merge Records' 20th anniversary festival in North Carolina, where she jumped onstage during M. Ward's set and closed out the week-long celebration with a She & Him gig. Her next movie, a fantasy/period piece called Your Highness with costars James Franco and Natalie Portman, is currently in production.