No one knows when Radiohead might regroup to record another album, or whether that album will be delivered digitally or by some as-yet-undiscovered mode of technology, but Thom Yorke continues to stay in the limelight nonetheless. The singer popped up Monday night at the premiere of climate crisis film The Age of Stupid for a short acoustic performance.
Appearing via satellite on the big screen at the film's NYC premiere, which was simulcast to 440 movie theaters around the U.S. and 63 countries worldwide, Yorke — who released two new solo songs via the members-only section of his band's W.A.S.T.E. site on Monday — solemnly strummed through the solemn "Reckoner," off In Rainbows, after a reverent introduction by TV personality Gideon Yago.
When asked if he had anything to add, Yorke didn't mince words. "The concept of limitless economic growth is now dead," he said. "We have to come up with another plan."
Watch Yorke's version of "Reckoner" below, and check out The Age of Stupid's official site for more information on the timely film.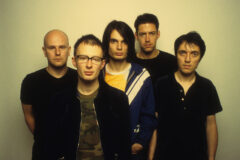 WATCH: Thom Yorke, "Reckoner"
https://www.youtube.com/embed/TLMEsc_42Gw