It's fitting that Pete Yorn and Scarlett Johansson made their live performance debut last night on French television. After all, Yorn recently said that Parisian singer-songwriter Serge Gainsbourg's collaboration with French actress Bridgett Bardot inspired his own album of duets with Johansson. The duo performed "Relator" on the indie-leaning Le Grand Journal Thursday night, and we've got the video below.
"Relator," the first single off ScarYo's hit-and-miss album, Break Up, was propped up in its live iteration by a four-piece band that replaced the moody theatrics of the original with a sassy bounce.
Johansson appeared poised and confident in her first live performance as a leading lady (she did backing vocals for the Jesus and Mary Chain two years ago) but she admitted her nerves were running high.
"Red Carpet appearance is WAYYY better..!!," she posted on Twitter this morning. "I felt amazing but was really nervous."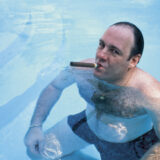 If she had butterflies, it didn't show, But, after all, she's still an actress.
WATCH:Pete Yorn & Scarlett Johansson, "Relator"
https://www.youtube.com/embed/1Rybevae1uE