Punk rock has long been the soundtrack of frustrated adolescence, but even the brattiest of genres must grow up eventually. L.A. punk fans celebrated a coming-of-age milestone Sept. 6 when a slew of bands helped the Vans Warped Tour honor its 15th anniversary with a huge concert. A cinematic version of the event will hit movie theaters for one-night-only this Thursday (Sept. 17), but we've got an exclusive clip of NOFX's performance right now!
Veterans of seven Warped Tours, NOFX embody the tour's ethos in just 90 seconds with "Murder the Government": It's high-energy music that's compelling not in spite of its sloppiness, but because of it. It's frustration unleashed by musicians having as much fun on stage as the crowd's having in the pits.
Only stupefying heat and rank porta-potties were missing from the L.A. concert, but fans didn't seem to mind as they moshed to a lineup that blended Warped old-timers with more recent stars. Pennywise and Blink-182, alumni of Warped's second outing in 1996, represented the good old days, the latter band sending in a filmed performance from their ongoing national tour.
In turn, younger groups paid tribute to the bands of Warpeds past. Fall Out Boy's Pete Wentz showed up unannounced to run through a cover of Blink's "Dammit" with Panic! at the Disco before the group slammed out an semi-unrehearsed "Don't Stop Believing." Other performers included Katy Perry, Bad Religion, Underoath, and Ice-T.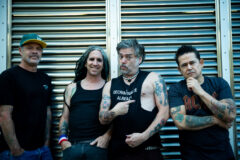 Fans will get a chance to see these performances and more this Thursday, when the Warped Tour 15th Anniversary Celebration documentary hits theaters for a special screening. Tickets are available via fathomevents.com.
Until then, check out this exclusive clip of NOFX romping through "Murder the Government" below!
WATCH: NOFX, "Murder The Government" Live