Trent Reznor is living out some of his childhood fantasies on NIN's farewell tour, inviting his musical touchstones up onstage for one last hurrah.
First, the rocker-cum-body-builder tapped former Bauhaus singer Peter Murphy for the band's performance in New York, and Wednesday night in Los Angeles, he recruited synth-pop pioneer Gary Numan to sing a pair of tracks — including Numan's 1979 hit "Cars"! Watch video below.
Numan and Reznor also performed "Metal," a poppy electronica track from Numan's 1979 album The Pleasure Principle, which Reznor said was very influential on NIN's sound.B
But Numan's cameo wasn't the only surprise Wednesday night: NIN opened the set with a track-by-track run through their landmark 1994 album, The Downward Spiral, the second time the band has played the entire record on their farewell outing.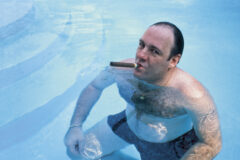 PHOTOS: NINE INCH NAILS LAUNCH GOODBYE TOUR!
Meanwhile, as announced via NIN.com,Thursday night's gig at the Henry Fonda Theatre has been canceled because Reznor is ill. The show is expected to be rescheduled in the next 24 hours.
While Reznor recovers and recruits more of his childhood heroes for NIN's sure-to-be-awesome finale at Los Angeles Echoplex Saturday night, watch footage NIN rock out with Numan below.
NIN w/ Gary Numan, "Cars"
https://www.youtube.com/embed/G0fRh8pCUd8[/videoembed]
NIN w/ Gary Numan, "Metal"
https://www.youtube.com/embed/G0fRh8pCUd8[/videoembed]
NIN setlist [via BrooklynVegan]:
1. "Mr. Self Destruct"?
2. "Piggy"?
3. "Heresy"?
4. "March Of The Pigs"?
5. "Closer"?
6. "Ruiner"?
7. "The Becoming"?
8. "I Do Not Want This"?
9. "Big Man With A Gun"?
10. "A Warm Place"?
11. "Eraser"?
12. "Reptile"?
13. "The Downward Spiral"?
14. "Hurt"?
15. "1,000,000"?
16. "Terrible Lie"?
17. "Lights In The Sky"?
18. "Burn"?
19. "Gave Up"?
20. "Suck"?
21. "Metal" (Featuring Gary Numan)?
22. "Cars" (Featuring Gary Numan)?
23. "The Hand That Feeds"?
24. "Head Like A Hole"