Their kitschy, winsome DIY pop is earning them fans on both sides of the pond, but Micachu and the Shapes' most important devotee hails from an island in the middle of the Atlantic Ocean. The Icelandic-born superstar Bjork asserted her long-time admiration for the band by premiering their new video "Turn Me Well" on her website today.
"I saw [Micachu frontwoman Mica Levi] in London, in June, a year ago and I was really excited about her," Bjork recently told NPR. "I thought it was that sort of 'do it yourself' approach, with all these little guitars and her attitude was really fresh… think it's really, really fun."
The elegantly simple clip for "Turn Me Well," a gritty song off Micachu's SPIN-approved album, Jewellery, doesn't leave you wondering why Bjork has become a vocal supporter. With the track's skittish beats pulsating in the background, a one-take close-up of Levi's waif-like face blends with the spinning sky.
The East London trio — which also includes drummer Mark Pell and keyboardist Raisa Khan — is currently featured in SPIN's September issue, as part of a London bands story that also profiles La Roux, We Have Band, and Kasms.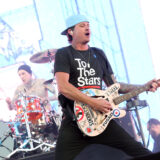 Enjoy the video below. And should you happen to catch Micachu and the Shapes playing Reykjavík's Iceland Air Waves festival in October, be on the lookout for a pixie-ish woman side-stage.
WATCH: Micachu and the Shapes, "Turn Me Well"
https://www.youtube.com/embed/d4OhRVn_b80