Radiohead frontman Thom Yorke will perform songs from his 2006 solo album, The Eraser, for the first time ever in the U.S. at two shows next week in Los Angeles, and he's got some esteemed colleagues backing him up: Red Hot Chili Peppers bassist Flea, longtime Radiohead producer/collaborator Nigel Godrich, R.E.M./Beck drummer Joey Waronker, and Mauro Refosco, a percussionist best known for his work with David Byrne.
The shows are set for L.A.'s Orpheum Theatre on October 4 and 5, and tickets go onsale today (Tuesday) at 10 A.M. PST via Ticketmaster. It's also the first time Yorke has performed Stateside since Radiohead's 2008 summer tour.
"In the past couple of weeks I've been getting a band together for fun to play the Eraser stuff live and the new songs etc., to see if it could work," Yorke posted on his band's website (via Billboard). "We don't really have a name and the set will not be very long cuz, well, we haven't got that much material yet!"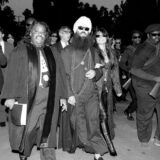 The live shows come on the heels of a small flurry of activity in the Radiohead camp over the past two months, which has included the release of three new songs, and an appearance by Yorke at the premiere of climate crisis film The Age of Stupid.
What do you think of Yorke's new backing band? Sound off in the comments section below.