On the Scene: New York City
1.Crystal Castles, All Tomorrow's Parties, Kutsher's Country Club
1/17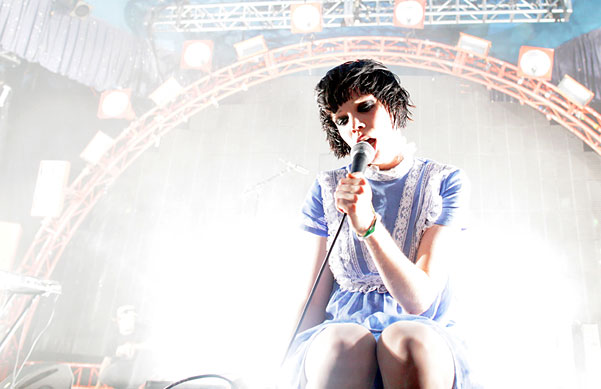 The last act up before headliners and fest co-curators the Flaming Lips took the stage at this multi-day event held at the famous country club in upstate New York, Toronto dance music terrors the Crystal Castles put on a typically intense and strobe-heavy set. In this shot, photographer Kathryn Yu, who snapped all the images in this gallery, froze singer Alice Glass in a rarely seen moment of repose. "The reason there's so much light in the picture is because I caught Alice in-between strobes. You never see her so clearly on-stage. She's also usually going crazy. This is as introspective as you'll ever see her." -- Written by David Marchese
2.Crystal Castles, All Tomorrow's Parties, Kutsher's Country Club
2/17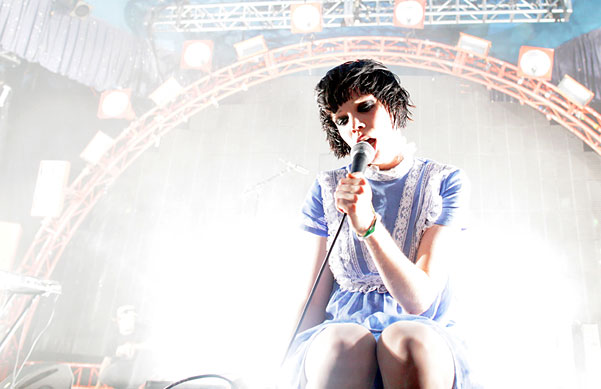 The last act up before headliners and fest co-curators the Flaming Lips took the stage at this multi-day event held at the famous country club in upstate New York, Toronto dance music terrors the Crystal Castles put on a typically intense and strobe-heavy set. In this shot, photographer Kathryn Yu, who snapped all the images in this gallery, froze singer Alice Glass in a rarely seen moment of repose. "The reason there's so much light in the picture is because I caught Alice in-between strobes. You never see her so clearly on-stage. She's also usually going crazy. This is as introspective as you'll ever see her." -- Written by David Marchese
3.Brendan Benson, SPINhouse Live, the SPIN Offices
3/17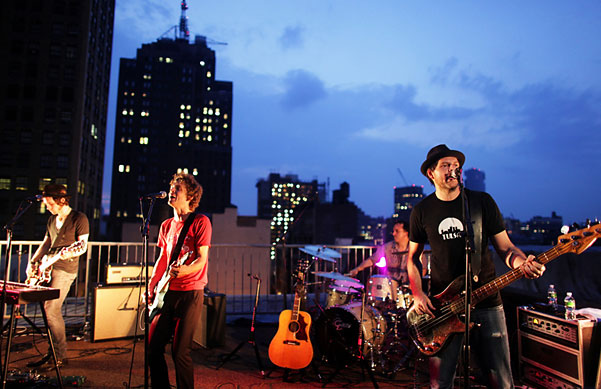 Our photographer wasn't the only one excited for the opportunity to take pictures from a Manhattan rooftop. "After the show, Brendan's bassist and keyboardist were trying to take pictures of each other with the skyline in the background. I told them I could probably lend a hand and they let me take their pictures. I emailed them the photos later." Power-popper Benson, who also plays with Jack White in the Raconteurs, is currently touring in Europe behind his sixth solo album My Old, Familiar Friend, which was his first release to chart in the Billboard 200 when it came out last August.
4.Flying Lotus, Warp20, Terminal 5
4/17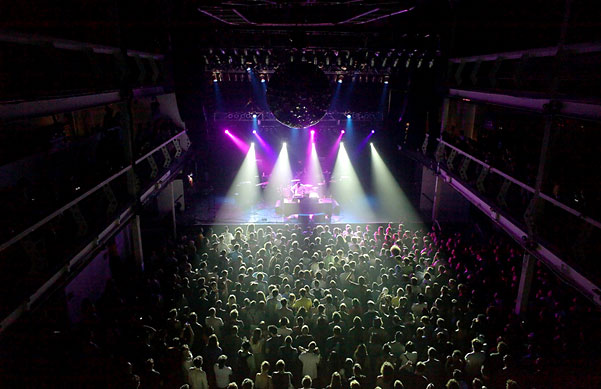 To get this image of experimental L.A. DJ Flying Lotus, who was playing in New York City as part of UK record label Warp's 20th anniversary celebrations, Yu had to resort to some sneakery. "The problem shooting DJs is that they tend to spend most of the set looking down at their laptop. I wanted to get something more interesting, so I snuck up to the third floor of the building -- where no one's allowed -- and got this picture of the whole crowd."
5.Jamie Lidell, Le Poisson Rouge
5/17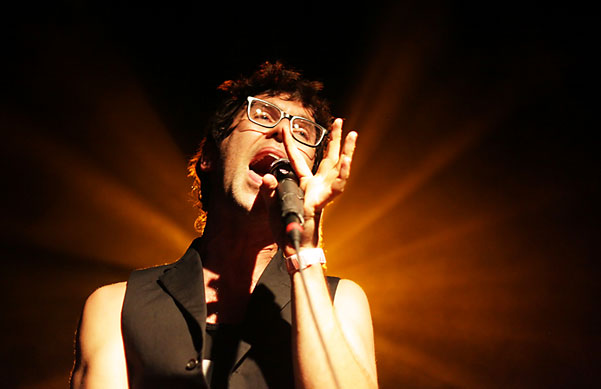 The British neo-soulman's gig at this small club was also part the Warp20 festivities -- the venerable label has released all three of Lidell's albums, including the latest, 2008's Jim. According to Yu, the show was stellar -- except for one photographic quirk."Certain singers suffer from 'Mic Face.' They always look like they're about the eat the microphone," she explains. In fairness to Lidell, microphones are delicious.
6.These Are Powers, Brooklyn Bowl
6/17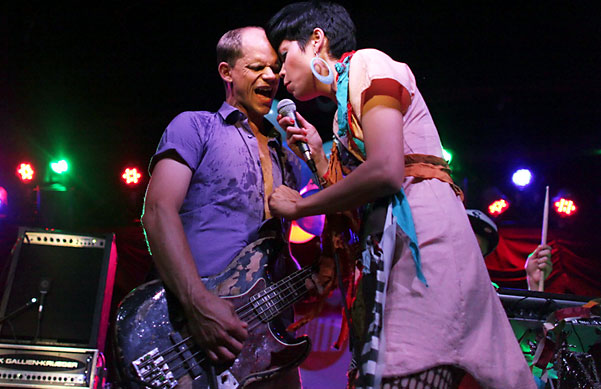 Another night, another anniversary party. This time, Gotham musicgoers were celebrating the 10th anniversary of online music retailer Insound.com with a show at a club/bowling alley. Soundtracking the festivities was polyrhythmic noisemongers These Are Powers, here seen mid-disrobing. "The singer, Ana Barrie was unbuttoning [bassist Pat Noecker's] shirt," recalls Yu. "Most bandmembers tend to stay in their own spaces on stage and don't interact. I'm always looking for those moments when they do."
7.Elvis Perkins, Housing Works
7/17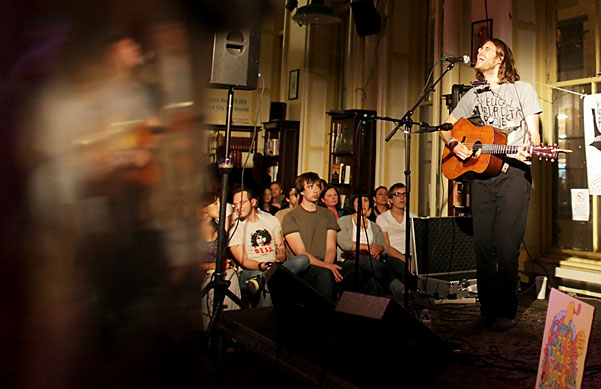 L.A. singer-songwriter Elvis Perkins, the son of the late Psycho actor Anthony Perkins, was in town to play a benefit for the Yellow Bird Project (which teams with indie rock musicians to create unique t-shirt designs, the sales of which go to various charities). Given that Housing Works is a bookstore, and Perkins was playing solo, the show didn't offer a ton of photographic possibilities. So Yu improvised. "I noticed that you could see Elvis's reflection in a display case, and managed to get a cool double image of him. I think it worked out well."
8.Islands, Bell House
8/17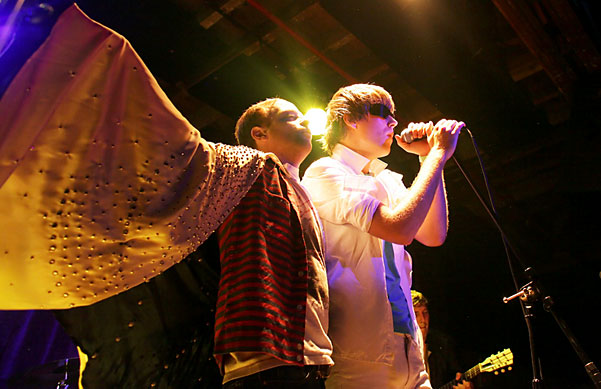 Who is that caped man? It's Queens, New York, rapper Despot, a friend of Islands' frontman Nick Thorburn. "Nick came out onstage wearing that cape and then threw it away after a couple songs," says Yu. "Then, later on in the set, Despot came out wearing it, rapped for a bit, then left." Island's Vapours, the flamboyant Montreal chamber-pop band's newest album, hit stores this week.
9.Super Furry Animals, All Tomorrow's Parties
9/17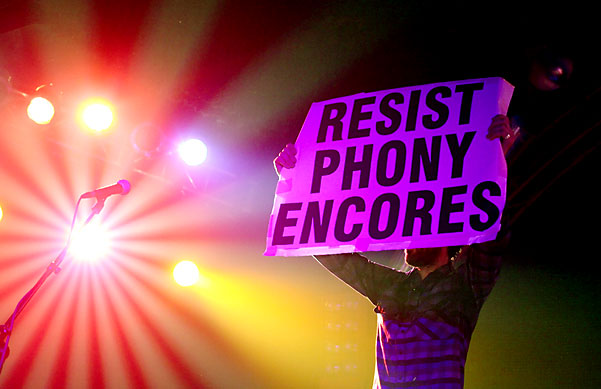 Resist phony encores, but pay attention to stage shtick. "The band held up signs throughout the show," says Yu about the veteran Welsh psych-rockers. "There were also ones that said, 'Applause' and 'Yeah!'" True to their word, the band didn't play an encore.
10.Suicide, All Tomorrow's Parties
10/17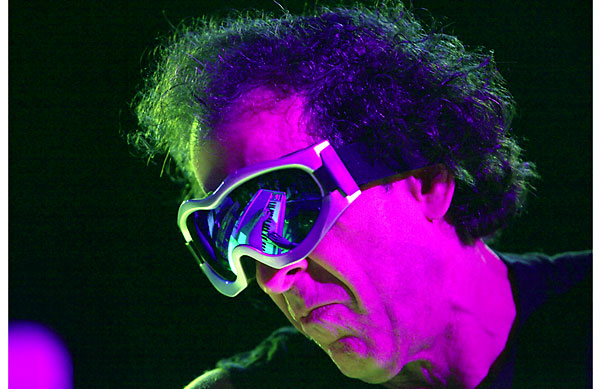 Suicide played their entire classic 1977 self-titled debut album at the festival. But when they weren't grinding out their brand of scary electro-rockabilly, singer Alan Vega and keyboardist Martin Rev roamed the grounds. "You'd just see those two guys walking around with their families or sitting on couches. It was pretty cool," says Yu. Although, she adds, "[Rev] didn't wear those sunglasses all the time, which was a bummer."
11.Das Racist, Bell House
11/17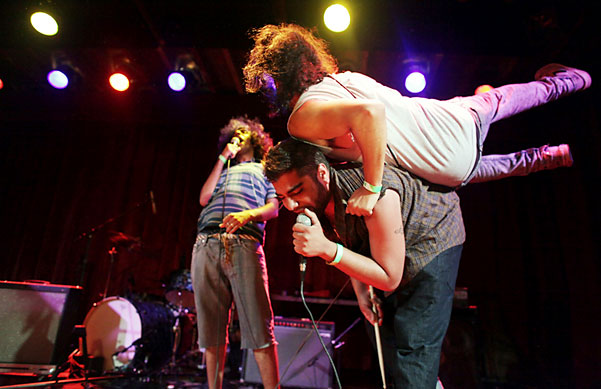 Yu unearthed important info at this show by the Brooklyn meta-rappers, who were opening for Islands. "The name is not a play on German or anything like that. There's a refrain in one of their songs that goes, 'Why would you say that? / Das Racist.' The 'Das' is a [soundalike] play on 'That's,' not the German word Das." Das da truth.
12.Super Furry Animals, All Tomorrow's Parties
12/17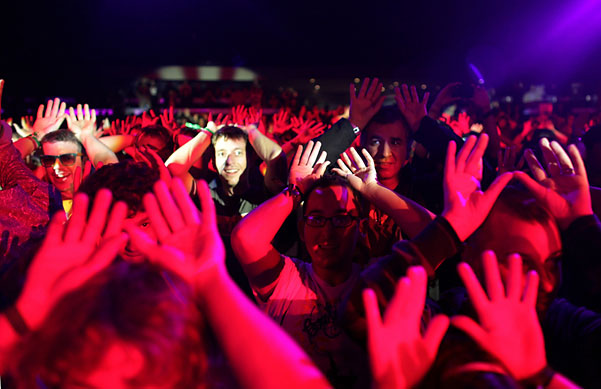 More goofiness from the Furries. Says Yu: "The band has a song about the environment and was asking everyone to hold their hands in the air like they were a tree." And that guy in the middle of the picture who has the light shining across his face? "Just a fan."
13.Deerhunter, Brooklyn Bowl
13/17
Yu says she owes singer Bradford Cox of woozy Atlanta dream-poppers Deerhunter a personal apology: "I ran onstage during your set because I was getting squashed by the crowd and you looked at me like, 'Who is this person up here with me right now?' I'm sorry I took you out of your zone.'"
14.Battles, Warp20, Terminal 5
14/17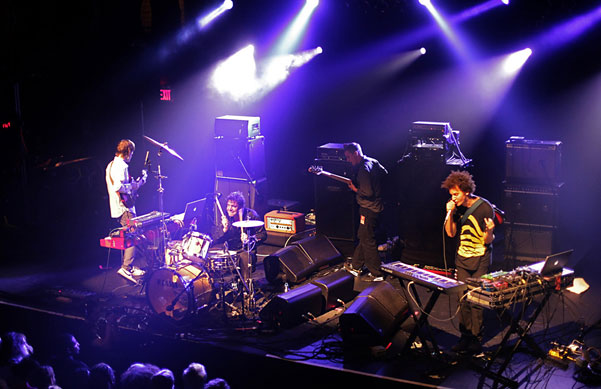 This picture of the New York City musical mad scientists in Battles was born out of photographic necessity. "If you'll notice," says Yu, "the band's gear is set up very close to the edge of the stage. So it was really hard to get a good angle for a picture. I had to go up to the balcony and crouch down between people's legs to get something interesting."
15.Dirty Three, All Tomorrow's Parties
15/17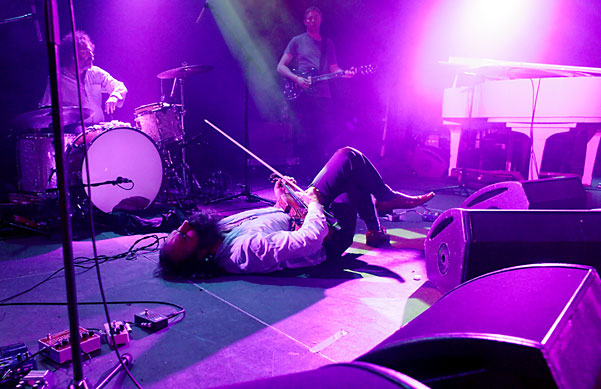 The Dirty Three, led by violinist Warren Ellis, were actually four at this gig, where they played all of their brooding 1998 instrumental masterpiece Ocean Songs. "You can't make him out because he's obscured by the light, but Nick Cave is playing that big white piano."
16.Juliette Lewis and the Licks, Central Park
16/17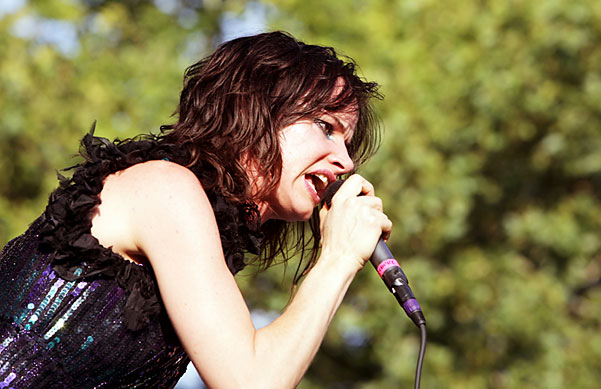 As befits an actress making a go of it as a rock singer, Juliette Lewis was not afraid of a challenge at this show. "First, she was opening up for Cat Power and Chrissie Hynde, which take guts," says Yu. Second: "It was like 90 degrees out and 90 per cent humidity and Juliette was dressed all in black in this crazy hot-looking sequined dress." We're hot just looking at her.
17.The Flaming Lips, All Tomorrow's Parties
17/17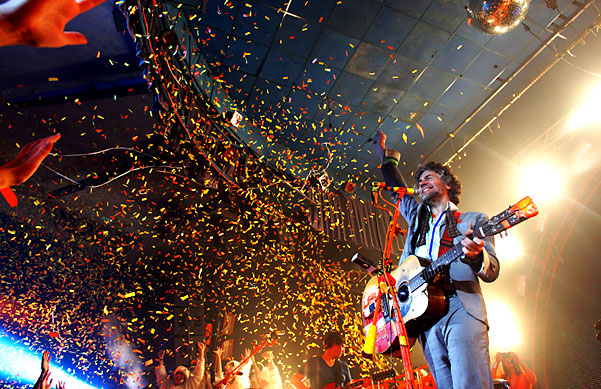 The Flaming Lips had a vested interest in everything going well at this edition of ATP. The Oklahoma crazies, whose Embyronic is out October 13, picked the bands that played on the festival's third and final day, and then performed the closing set. Judging by the look on Wayne Coyne's face, all went according to plan. "You can just see how happy he is," says Yu. "This picture was taken after the second-to-last song the band played. Then before the last song, Wayne said he'd hang around to meet the crowd after the show. He was so thrilled with everything and wanted to thank everyone personally."