As the frontman/mastermind of Say Anything, Max Bemis expresses himself without any filter: On his first album, Say Anything…Is a Real Boy, he sang about how he got dumped over the revealing nature of his songs, and, as a result, "won't ever have rough sex with Molly Connolly again."
But something's different now for Bemis, as he prepares to release his third album, a self-titled effort due Nov. 3, and it was instantly apparent when he played the new song "Crush'd" recently at our NYC office. With a shiny new wedding band on his finger, Bemis sang about how his first conversation with a love interest led him to start "shedding slutty girls like snakeskin." And when he belted, "Quite sure you love me Sherri, quite sure I love you too," we realized he was literally talking about his new wife, Eisley guitarist/vocalist Sherri DuPree — who was sitting in the room with us, watching intently.
Maybe he can finally shrug off that emo tag — after all, the guy never gets the girl in an emo song, right? But for those who loved the heartbreak of Say Anything's first two albums, Bemis performed two old favorites for us: …Is a Real Boy's "Woe" and "Baby Girl, I'm a Blur" off 2007's In Defense of the Genre.
Watch all three videos below! And, for a special treat, click here to see Max and the band play five songs on their visit to the old SPIN office in 2006.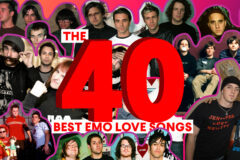 WATCH: Max Bemis from Say Anything