After speculation circulated online yesterday, Matador Records made it official today: Indie pop groundbreakers Pavement will reunite for tour dates "around the world" in 2010.
But don't get too excited: Today's announcement made it very clear, in two separate mentions, that the reunion tour is "one-time only" and that it's "not a prelude to additional jaunts and/or a permanent reunion" for band members Mark Ibold, Scott "Spiral Stairs" Kannberg, Stephen Malkmus, Bob Nastanovich, and Steve West.
The first "announced" (wink, wink) date will be September 21, 2010 in Central Park's Rumsey Playfield, site of NYC's Summerstage series. And, believe it or not, a ticket presale kicks off at 10 A.M. EST tomorrow (Sept. 17) via Ticketmaster for a show that's literally an entire year away. The presale password is "ZOWEE" — cute!
The remainder of tickets will become available at 10 A.M. EST on September 25, and tickets may also be purchased without service fees at the Nokia Theater box office in Times Square and Earwax Records in Williamsburg, Brooklyn.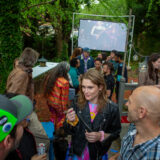 Matador also announced that some sort of Pavement compilation is planned for release in conjunction with the tour.
We've been salivating over this sort of announcement for years — long enough to compile a dream setlist for Pavement's first reunion show. Click here to read our proposal — then post your own!
LISTEN: Pavement, "Rattled By The Rush"(DOWNLOAD MP3)

LISTEN: Pavement, "Heckler Spray/In The Mouth Of A Desert"(DOWNLOAD MP3)

WATCH: Pavement, "Grounded" Live in Manchester
https://www.youtube.com/embed/t9RUztVqeR8