Friday night's Get Up Kids show kicked off anational reunion tour that will last more than two months, but it was the third time the influential emo band played in(or near) their hometown of Kansas City, MO, since officially reforming last year.
That might explain the size of the crowd, which barely topped 400 people. So might the locale: the VooDoo Lounge in Harrah's Casino north of downtown Kansas City, a swanky nightclub that only admits patrons who are over 21 years old. True, the Kids are old enough to have children of their own, but the age restriction no doubt forced some of their younger fans to stay home.
Whatever the reason, the club was about one-third full when the five-piece took the stage around 9:15 P.M. But once lead singer Matt Pryor solved a few sound problems, the Kids performed with the invigoration and ferocity of a band playing to a full house. And several times, the place sounded like it was filled to the rafters, thanks to the screams of a few fanatics.
The Kids' hometown show is part of a tour that is commemorating the 10th anniversary of the album Something to Write Home About, which has just been re-released in a deluxe CD/DVD package. The setlist on Friday night visited that album more than a half-dozen times, including three of the first four songs, including "Holiday" and "I'm A Loner Dottie, A Rebel."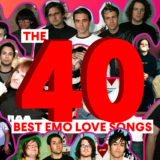 The band also went back to 1997's Four Minute Mile, with a spot-on rendition of the song "Coming Clean," a full-speed, angst-ridden punk tune with Pryor's hollers about his struggle with the truth.
The Kids are coming off a European tour that comprised 14 shows in 17 days, and that roadwork knocked off the rust and put some polish and muscle into their act. Throughout a show that lasted nearly two hours and comprised more than 20 songs, the band played with an rousing mix of energy and precision.
It helped that in the four years since they retired/broke-up in 2005, all five members have become vital parts of other projects, most notably bassist Rob Pope, now a member of Spoon, and keyboardist James Dewees, a touring member of My Chemical Romance and brainchild of Reggie & the Full Effect. Pryor also released a solo record and a pair of albums with his side-project, the New Amsterdams.
The crowd, which included many dozen close friends and relatives of the band, was familiar with everything on the set list and sang-along to most tracks. But they responded loudest to older tunes like "Don't Hate Me." The song was part of a four-song encore that included a cover of the Cure's "Close to Me," which Pryor truly turned into a Get Up Kids song, channeling Robert Smith's lyrics of love through his shrill voice.
The other treat: "Keith Case," a new song that pointed to a future beyond this reunion jaunt, and that's something to truly write home about.
Get Up Kids' setlist:
"Holiday"
"I'm a Loner, Dottie, A Rebel"
"Coming Clean"
"Valentine"
"The One You Want"
"Woodson"
"No Love"
"Out of Reach"
"Keith Case"
"Red Letter Day"
"Campfire Kansas"
"Holy Roman"
"Mass Pike"
"Martyr Me"
"Close to Home"
"Action and Action"
"Walking on a Wire"
Encore:
"Close to Me" (the Cure)
"Don't Hate Me"
"I'll Catch You"
"10 Minutes"