This is just really great news. Nearly a full decade after the band's last show, it's been announced that indie-rock icons Pavement will be reuniting for a world tour in 2010, with their first "announced" gig going down in New York City September, 21, 2010.
Given that this news was, you know, just made official, we're probably already past due for some speculative wishful thinking. Below, SPIN's editors have compiled a list of the songs we hope Stephen Malkmus and Co. see fit to play when they next take the stage.
Agree? Disagree? Post your thoughts and your own set lists in the comments section.
SPIN's Dream Pavement Set List: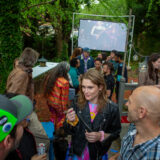 "Summer Babe"
"AT&T"
"Fame Throwa"
"Loretta's Scars"
"Spit on a Stranger"
"Rattled By the Rush"
"Black Out"
"In the Mouth a Desert"
"Range Life"
"Unseen Power of the Picket Fence"
"So Stark (You're a Skyscraper)"
"Box Elder"
"Shoot the Singer"
"Stereo"
"Here"
"Pueblo"
"Frontwards"
"Kennel District"
"No Life Singed Here"
"Stop Breathin'"
"Cut Your Hair"
Encore:
"Zurich is Stained"
"Gold Soundz"
"Grounded"