Seven years after Layne Staley's death from a drug overdose in 2002, Alice in Chains began its first major headlining tour Friday night without the iconic singer. The quartet's upcoming album — Black Gives Way to Blue, due Sept. 29 — includes songs inspired by the late frontman. But their 100-minute performance at Washington, D.C.'s 1,200-capacity 9:30 Club demonstrated that new leader William DuVall can make fans forget his predecessor.
Guitarist/co-vocalist Jerry Cantrell, drummer Sean Kinney, and bassist Mike Inez haven't opted for a new band name or musical style, and were clearly pleased to play their old material. The show opened with "Rain When I Die," one of the group's many lumbering odes to despair. Over a suitably heavyrhythm, Cantrell alternated wah-wah chording and squeaky-door riffs, setting an ominous mood.
As the band proceeded into classics "Angry Chair" and "Man in the Box," it became clear that Alice in Chains has found a proper successor to Staley. DuVall may be a bit more theatrical, but he had the necessary vocal power and range. His high notes complemented Cantrell's trebly guitar, and the two sang together like they have been friend since elementary school, smoothly trading off on the mic.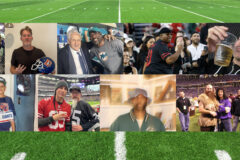 The set's first new song, "A Looking In View," was assembled from familiar parts: midtempo cadence, slo-mo vocal melody, and piercing guitar lines. The tune fit neatly into a set of gloomy chuggers that were sometimes difficult to tell apart, although it was distinguished by being one of only a few numbers on which DuVall played guitar.
Halfway through the show, the singer interrupted the flow to tell the sellout crowd that this tour-opener was "a very meaningful first night for him," because he grew up in Washington, DC. He noted that his 98-year-old grandmother and five-month-old baby both were in the house. Neither of them seemed the target audience for the next song, "Sludge Factory" — a title that could fit most of the evening's grinding rockers.
Not all of them, though. Cantrell plugged the upcoming album, and half-joked that it includes "a bunch of dark, slow, creepy tunes." But "Acid Bubble," the new song that followed, didn't entirely fit that description. It was only slower, yes, but featured one faster section that considerably enlivened it. Then the band returned to the sludge factory for several more songs, including the set-closing "Would."
It was the first encore that really woke things up. "Check My Brain," the second single off Black Gives Way to Blue, celebrates Cantrell's move to California, and is uncharacteristically sunny. One of the catchiest songs of Alice in Chains' 22-year history, it proved that the band can be accessible without sacrificing intensity. Inez's bass was typically doom and gloom, but that provided an interesting contrast, something that's relatively rare in the band's forceful but often monochromatic music.
The group returned to its back catalogue for the two concluding songs, "No Excuses" and "Rooster," but both sounded a little more sprightly than might have been expected. As the audience picked up the latter's "you know he ain't gonna die" refrain, the combined voices illustrated grunge's (somewhat) heartening message: You may be bummed, but you're not alone.