Good news for music fans and movie buffs alike: Stephenie Meyer, the author behind vampire blockbuster series Twilight and the curator for the 2008 film's metal-tinged, chart-topping soundtrack, has a newfound love for indie rock!
In a recent post to her website, Meyer — who, admittedly, hasn't been writing much this summer as she prepares for the November release of Twilight's second installation, New Moon — suggested a few "awesome CDs I discovered this summer" to her fans: Animal Collective's Merriweather Post Pavillion, Silversun Pickups' Swoon, White Rabbits' It's Frightening, the Dead Weather's Horehound, Grizzly Bear's Veckatimest, and Meese's Broadcast.
"I really should have known about Meese a while ago," Meyer wrote, "but thanks to a mislabeled CD mix, I didn't realize Meese was responsible for one of my favorite songs until I went to their concert. And then I was glad that I already loved them, because the guys in Meese are possibly the nicest people in the world."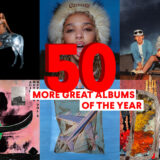 Meyer also suggested some older albums that she has on heavy rotation — the Weakerthans' Reunion Tour and Elbow's Seldom Seen Kid, which, she wrote, "owns my iPod right now" — and detailed a few gig she saw this summer. "I got out to a few good concerts. Meese was with Jack's Mannequin and the Fray — lovely. If you haven't seen these guys live, do." She also gave a shout out to Blue October, whose frontman, Justin Furstenfeld, joined Meyer on a book tour last year. "I love their shows," she confessed. "You can't really know Blue October until you see them live. It's an amazing experience."
So will any of these bands appear on the yet-to-be-announced soundtrack to Twilight's much-anticipated next film, New Moon? Now word just yet. But considering that many of Meyer's musical inspirations appeared on the last soundtrack, there's a good chance Animal Collective or the Dead Weather will pop up in theatres when the film drops November 19. And, remember, the film's director Chris Weitz said Kings of Leon and Thom Yorke were already in talks to contribute to the New Moon soundtrack.
Plus, come on, a teenage vampire flying through the sky to Grizzly Bear's dark, moody songs "Two Weeks" or "While You Wait for the Others" would be a perfect fit and would make for one happy family: Mr. Yorke is a very outspoken supporter of the Griz, tapping the Brooklyn band to open for Radiohead this past year.
Meyer ended her post with a final note to all the Twilight fans in internet land.
"I hope you guys had a really good time this summer, and found some great stuff of your own. I love this world full of stories and songs waiting to be discovered! And I also love you, the awesome Twilight fandom. I stalk your websites all the time — you guys are hilarious. I'm looking forward to seeing some of you in November for a little movie release that I'm excited about. Too many months to go!"