Tool singer Maynard James Keenan is bit overrated. His band is not.
For nearly 20 years, the 45-year-old frontman has been emblematic of the moody Los Angeles rock group — and, yes, he's a gifted, 5'7″ weirdo who owns a winery and sings about genitals. But by the standards set by his three-piece band Saturday night in Chicago's Grant Park, Keenan isn't much more than a very talented side prop to an even more talented group of vastly under-appreciated, nameless hard rockers.
Throughout the 90-minute show, which is a stop on the band's first U.S. tour in nearly two years, the Mohawk-sporting frontman wiggled around in his boxers at the back of the stage, mostly obscured by the bright lights of a giant screen, which flashed mysterious images of rotting cadavers, rats, eye-popping solar maps, and building blueprints. With the screen providing the visuals, drummer Danny Carey, bassist Justin Chancellor, and guitarist Adam Jones built a dark wall of intricate prog rock that was frightening, psychedelic, and totally awesome — kind of like a first acid trip.
Carey, who, at 48, is the oldest member of the band, has contributed to an array of albums, from Skinny Puppy to the Melvins — and his range shows. On "Aenima," his tribal-style percussion set the stage for Keenan's pissy ramble in which he tells everyone to fuck off — junkies, tattoo aficionados, and gangster wannabes, etc. On "Rosetta Stoned," Carey layered punishing symbol crashes and thundering bass kicks under Keenan's quick-tongued blathering, which, delivered together, was more stupefying that a pair of anvils to the head.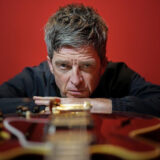 On "Schism," Chancellor, the youngest member of Tool at 37, led the band with his rubber band riffs that pulsed like a possessed ECG machine in a hospital's intensive care unit. His fuzzed-out, looping melodies on "Forty Six & 2" gave the song an even more sinister feel, underpinning Keenan's growl: "MYYYYY SHHHHHHAAAADDDDDDOOOOOWWWWW!!!!!!!!!!!"
Jones, 44, is probably the band's most underrated member. The guitarist — who has created stop motion music videos for "Schism" and "Prison Sex," among others, and directed the videos on the overhanging screen — was the star on tracks like "Stinkfist," transforming his six-string into a detonator for the tune's explosive riffs and rhythmic shifts.
On "Flood," a meandering hard rock tune with few lyrics and lots of starts and stops, he worked out waves of psychedelic noise that, were his work more revered, might become a touchstone for more bands.
Like consummate workmen, the band seldom paused between songs, instead keeping the massive crowd — which filled every damn patch of grass on the field — head bangin' and passing joints, mesmerized by the atmospheric combination of music and visuals. But before the group closed with a mind-crushing rendition of "Vicarious," Keenan did, however, have one suggestion:
"We just got clearance for everybody — because of the heat, the humidity, the tiredness, the rain — to take their clothes off," he sputtered in a faux hillbilly accent. "At least for now."
No one in the crowd appeared to strip on command. And really, he should just let his band's playing do the talking — it's much more convincing.
Setlist:
"Jambi"
"Stinkfist"
"Forty Six & 2"
"Schism"
"Rosetta Stoned"
"Flood"
"Aenima"
"Lateralus"
"Vicarious"