An unidentified Los Angeles law enforcement official has told the Associated Press that Michael Jackson's June 25 death has been ruled a homicide by a L.A. county corner.
Meanwhile, a new search warrant affidavit unsealed Monday in Houston, TX, which quotes coroner Dr. Lakshmanan Sathyavagiswaran, says Jackson died due to lethal levels of anesthetic propofol. [Via CNN].
According to the 32-page warrant, Jackson's physician, Dr. Conrad Murray, had been treating Jackson for insomnia for six weeks. Murray reportedly told a L.A.P.D. officer that he was attempting to wean Jackson from propofol by mixing lower doses of other drugs to help him sleep. On the day Jackson died, Murray says he administered several drugs to Jackson, including intravenous injections of valium, lorazepam, midazolam, and, finally, 25 milligrams of propofol.
CNN provides a breakdown of the events of the morning of June 25, according to the affidavit: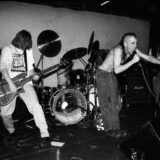 — At about 1:30 A.M., Murray gave Jackson 10 mg of Valium.
— At about 2 A.M., he injected Jackson with 2 mg of the anti-anxiety drug Ativan.
— At about 3 A.M., Murray then administered 2 mg of the sedative Versed.
— At about 5 A.M., he administered another 2 mg of Ativan.
— At about 7:30 A.M., Murray gave Jackson yet another 2 mg of Versed while monitoring him with a device that measured the oxygen saturation of a his blood.
— At about 10:40 A.M., "after repeated demands/requests from Jackson," Murray administered 25 mg of propofol, the document said.
"Jackson finally went to sleep and Murray stated that he remained monitoring him. After approximately 10 minutes, Murray stated he left Jackson's side to go to the restroom and relieve himself. Murray stated he was out of the room for about two minutes maximum. Upon his return, Murray noticed that Jackson was no longer breathing," the affidavit said.
The affidavit adds that Murray never ordered, purchased, or received any of the propofol, but that the doctor found about eight bottles of it in the 50-year-old singer's home along with numerous other vials and pills — including valium, lorazepam, temazepam, clonazepam, trazodone and tizanidine — which had been prescribed to Jackson by both Dr. Murray and Jackson's other physicians, Dr. Arnold Klein and Dr. Allan Metzger. [Via LA Times]
In response to the breaking news, the Jackson Family has issued a new statement. "The Jackson family has full confidence in the legal process, and commends the ongoing efforts of the L.A. County Coroner, the L.A. District Attorney and the L.A. Police Department. The family looks forward to the day that justice can be served."
No homicide charges have been filed.
Murray has been the subject of an on-going investigation by the L.A.P.D. for his role in Jackson's death, with officials recently raiding his Houston office. According to the affidavit, authorities subpoenaed Murray's medical records, plus those of Klein, Metzger, Dr. David Adams, Dr. David Slavitt, who conducted the independent medical examination of Jackson for Anschuntz Entertainment Group, as well as Dr. Randy Rosen, nurse practitioner Cherilyn Lee, and Dr. Mark Tadrissi, who stored medical records with Adams.