Radiohead released a brand new song this morning called "Harry Patch (In Memory Of)," a string-laden tribute to the last British WWI vet, who died last month. He was a stunning 111 years old.
The song, which was first played on BBC Radio 4, is now available as a download via the band's official website for the price of £1. All proceeds from the track will be donated to the Royal British Legion.
The song finds Radiohead at their most tranquil and cinematic yet, as a string section composed by guitarist Jonny Greenwood soars over multiple movements and Thom Yorke delivers a powerful message: How can the world allow war to happen?
"Give your leaders each a gun and then let them fight it out for themselves," he sings. Yorke's lyrics mirror the experiences Patch had in WWI, which included a role in the bloody 1917 battle of Passchendaele in Belgium where 300,000 British troops died. The singer even lifts a quote from a famous 2005 interview with Patch, who refused to talk about WWI for 80 years: "The next world war will be chemical, but they will never learn."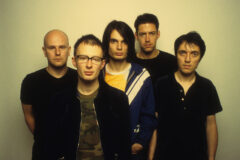 "I am the only one that got through /? The others died where ever they fell… I've seen devils coming up from the ground /?I've seen hell upon this earth," Yorke sings in a shivering croon.
Writing on Radiohead's website, Yorke detailed the song's inspiration. "The way he talked about war had a profound effect on me. It became the inspiration for a song that we happened to record a few weeks before his death. It would be very easy for our generation to forget the true horror of war, without the likes of Harry to remind us. I hope we do not forget. As Harry himself said 'Irrespective of the uniforms we wore, we were all victims.'"
Patch, who died July 25, will be buried in Wells, England, tomorrow, Aug. 6.
LISTEN: Radiohead,"Harry Patch (In Memory Of)"
https://www.youtube.com/embed/xZAIZjc4rUc