Chad Smith does more during his time off than most people do when they're working.
Nearing the end of a three-year hiatus from his day job as the drummer for the Red Hot Chili Peppers, the oft-shirtless funkmeister both recorded and hit the road with Chickenfoot — the band he formed with guitar virtuoso Joe Satriani and ex-Van Halen bassist Michael Anthony and singer Sammy Hagar. He also entered the studio with the instrumental funk-rock band the Bombastic Meatbats, whose self-titled debut album is due out September 15 on Warrior records.
Taking time out before a Chickenfoot show in Boston, Smith talked to SPIN.com about his new new band, throwing drum sticks at Satriani's head, and the Chili Pepper's first steps towards a new album.
How did the Meatbats come about?
Shit. When did it start? I guess it started a little over a year and a half ago now. [Guitarist] Jeff [Kollman], [keyboardist] Ed [Roth], and myself would play with Glenn Hughes' band. You know Glenn Hughes? He sang with Deep Purple back in the day. Anyway, the three of us would jam when Glenn was running late or something and we'd always fall into this funky kind of thing that sounded really unique and I thought we should record. It's just a fun project.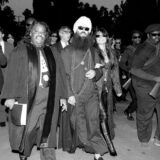 What itch do you get to scratch by playing in this band that you can't with the Chili Peppers or Chickenfoot?
We can do anything. There's no pressure. I love that. There' s no big show to put on. I just set up and play. And there's a lot of improvising — that's the thing that I really get out of it. The Chili Peppers do a lot of improvising, but it's within the framework of song structures. The Meatbats is from a purely instrumental standpoint. But when you hear the term "instrumental music" you think it's real serious stuff and everybody's playing a million notes and it's about playing fast. That's not what we do. We don't take ourselves too seriously. The name of the band is a giveaway.
It just dawned on me that the names of all three bands you're in — the Red Hot Chili Peppers, Chickenfoot, and the Meatbats — involve edible things.
[Laughs] Finally! Someone's finally realized! Edible names are what drives me as a musician. My next band will be called the Hot Dogs.
The Meatbats music reminds me of instrumental stuff from the '70s. Things like Jeff Beck and the Meters.
We love that music. The Meatbats are a throwback band. Not in the sense that we're trying to recreate something, but those things you mentioned are the things we all like to listen to. That's it, man. You know, I was doing an interview with this guy in Alabama and he said it sounds like the kind of music that Frank Sinatra would be listening to if he was sniffing coke off a whore's ass. I think that's a pretty good explanation of what we do.
Can I ask some Chili Peppers questions?
I've been instructed to talk about the Meatbats. Please try and keep your questions focused on that subject … I'm kidding. Go ahead.
What's the status of the new album? You guys have been off for a long time now.
We're going to get together and start writing songs in October.
Is anything already written?
No. We've jammed a few times. I've played with Flea a few times. But I've been gone since April doing the Chickenfoot thing. So in October, we'll start from scratch. The four of us will get in a room and just start playing. That's how it's always worked before. That method hasn't failed us yet.
Do you know who'll be producing the new album?
It's not at the point where we're thinking about that yet. But Rick Rubin's been our producer forever. We love him and he's great. I assume that we'll use him again. But picking a producer is still far off down the road.
Any ideas on when we can expect to hear new music from you guys?
Sometime in 2010 seems realistic. That's what we're shooting for, but it takes a while to get the machinery going with something as big as the Chili Peppers.
Is it difficult for you jump from one project to another?
Nah, I'm schizophrenic, which makes it easy. Really though, it's all the same. I just try to approach and serve the music in the way that I think is right for the band I'm in at the time. But I've been in the Chili Peppers for over 20 years. It's important to do other things.
Like Chickenfoot. How's the tour been going?
It's been great — except for last night. I was throwing drumsticks into the crowd and Joe [Satriani] wasn't looking and I hit him right in the back of the head.
Oh man! How hard did you hit him?
I don't really throw the sticks that hard, but this one slipped from my hand and nailed him square in the back of the head. I felt terrible. He turned around and looked at me like he wanted to fucking kill me. Later I came over to him and said I was sorry. He yells: "Please don't throw sticks on my side of the stage anymore! It fucking hurt!"
Is Chickenfoot a one-off? Will you guys record together again?
I should call Jack White and see how he handles being in different bands. He could give me advice on how to juggle things. I'm having such a great time with Chickenfoot and we're coming up with more songs, but I love the Chili Peppers. The Chili Peppers will always be my main thing. But hopefully sometime next year Chickenfoot will able to do some more writing and recording when I'm not working with [fellow Chilis] Flea and John [Frusciante] and Anthony [Kiedis]. We'll figure it out. The main thing is that I'm at the point where I want to have as much fun as I can. What other reason is there to play music?
LISTEN: Bombastic Meatbats, "Oh! I Spilled My Beer" (DOWNLOAD MP3)