At her best, Scarlett Johansson drifts through our consciousness like a lusty apparition, or more accurately, like an apparition of lust — she's barely there, but the shape and pace of her performance unveils a fantasy gateway.
As an actress, she gets it, appearing most at ease when she submits to this ghost dance. But as a singer, at least on last year's Anywhere I Lay My Head — amid the lavishly hazy, 4AD-nostalgic, hipster male gaze of producer Dave Sitek (assisted by other members of TV on the Radio, Yeah Yeah Yeahs, etc.) — that illusion's been disrupted. She's been an apparition, but an uncomfortable, gauche, even intrusive one. Sitek did what Woody Allen did in Scoop — make ScarJo a random annoying image you'd carelessly kick out your dreams.
So now it's shaggy, shades-wearing, L.A. singer-songwriter Pete Yorn's turn. And "Relator," the first single from the duo's upcoming album, Break Up, does little to justify Yorn's claims that the album was inspired by Serge Gainsbourg and Brigitte Bardot (or Jane Birkin), circa 1969's "Je t'aime…moi non plus" (i.e., the Orgasm Song). On first listen, its synth-acoustic lope has all the cosmopolitan allure of a Nanny Diaries outtake.
But today's release of the "Relator" video — a series of seductive sepia set pieces with the two stars lounging and posing and crooning in and around a mussed-up bedroom/hotel room — might've solved the ScarJo musical conundrum.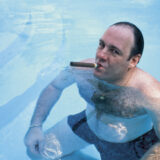 While most of the video of her during the first album cycle was from a stilted AOL studio session where she stood demurely before a music stand shifting and exhaling breathily backed by an array of cooler-than-you musicians trying to rustle up some drama, "Relator" is like an indie road-flick hookup between two people who are extremely comfortable looking attractively hungover in stylishly rumpled clothes. How's the song sound? Oh, it's a grower, but who the fuck cares? We wanna be them! Who wouldn't!
If Atco/Rhino doesn't commission a similar video for every song on this album, then they'll be yet another example of an incompetent bureaucracy that has no idea what we the people desperately want — no, need. We need ScarJo and Yorn (ScarYo? Scorn?) as our fantasy hosts, — nothing more, nothing less — taking us away from our recession-wracked, family-and/or-school-stressed responsibilities and letting us imagine for a few minutes that we're waking up blissfully numb next to a hot stranger in an exotic locale (or an exotic stranger in a hot locale-whatever does the trick). And there are absolutely no repercussions!
Please? Or in this case, following up on Yorn's nod to Gainsbourg: Si'l vous plait, you filthy stinking putains!
WATCH: Scarlett Johansson & Pete Yorn, "Relator"