John Hughes, who passed away on Thursday at age 59, graduated Glenbrook North High School in suburban Illinois in the spring of 1968.I graduated high school in 1988.He should not have known what it was really like for people like me to walk those tricky halls and hang out in those polarized parking lots two decades and half a country away from his "Shermer" (really, Northbrook), Illinois. But he knew. The same way he knew what it would probably be like for the kids who graduated in 2008. Truth is timeless, and the three movies he either wrote or produced and directed in the mid 80s (call it his "High School Trilogy," or more simply, his "Molly period,") had real truth in them.
John Hughes movies weren't about teens wanting to have sex like, well, just about every other teen movie of the '80s, both great (Risky Business), and not so much (Porky's 1-3). They were about kids wanting to fall in love and be liberated — literally delivered — from high school. John Hughes used music as this delivery system.
Think about the '80s teen movie soundtracks before him. With the exception of Valley Girl, they all kind of bite (unless you're really into Tangerine Dream). Can you name one song off Fast Times at Ridgemont High's soundtrack that does not involve Phoebe Cates emerging from a swimming pool or Jennifer Jason Leigh losing her virginity to Ron Johnson (stereo consultant) in a baseball dugout? Oingo Boingo's wonderful "Goodbye, Goodbye," if I recall correctly, and please point out if I don't, is not even on the soundtrack album but there are two theme songs, by Sammy Hagar and Billy Squier. Pre-Hughes soundtracks seemed like clearing houses for Big '80s deal-making fallout; contractual obligation throwaways.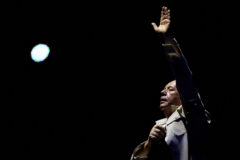 Even Hughes started slow. He wasn't operatic from the jump in '84.Pulling my copy of Sixteen Candles (Music From the Original Motion Picture Soundtrack) from my vinyl bin, I think, "If You Were Here," by the Thompson Twins is the only keeper a quarter century on (apologies to Ira Newborn and the Geeks and their "Geek Boogie"). Annie Golden's "Hang Up the Phone," is sweetly retro and girl group-ish, something the Shangri-Las or the Crystals might have sang. "If You Were Here," is no "Are You Ready For the Sex Girls." There's something dark and real about it, complicated. It's a love song, but the lyrics are, "If you were here, I could deceive you." These were giant steps for teen movie music.
His next film, The Breakfast Club, opens with a black screen and a lyric from David Bowie's "Changes" — a good omen, and sure enough, Hughes was supplying something a whole lot more personal and confident and bold, his stories told in part through "modern rock," the music and the images — Bender's fist frozen in the air at the close, Claire's earring in his ear — needed to be together forever.
"Don't You Forget About Me," was my generation's "Somewhere" (from West Side Story), promising a place where our defenses (vanity, insecurity and a half a dozen others) would not be harmed or touched. Where we would be alone and dancing until all of us realize we're the same. The fact that Hughes was a Summer of Love brain was box-office utopia. Both sportos and neo-maxi zoom-dweebies all bought tickets to his films, even though the dweebies were proprietary. Hughes, a National Lampoon contributor in the '70s, had written hit films before and after the "Trilogy" (Vacation and Home Alone) and knew the difference between blunt conflict and the intricacies of character and story. He saw that high school wasn't about one side vs. the other, it was really about one side wondering about the other. If you were a Bender or a Claire, a Blaine or a Ducky, you saw yourself in his characters and the music spoke your thoughts.
Wang Chung's "Fire In the Twilight," the other keeper on the Breakfast Club soundtrack works on film as the detainees break out of the library.Less so when you are trying to DJ the 12-inch in a crowded nightclub. The quintessential John Hughes song, and one that the earworm has been burrowing into me since I heard the news of his death is "Left of Center," by Suzanne Vega (with Joe Jackson on piano). It starts off defensive and hostile: blunt conflict. "When they ask me, 'What are you looking at,' I always answer, 'Nothing much,'" but by the fade out, she sings, "If you want me, you can find me, left of center wondering about you." I used to think you had to be the Farmer Ted or the Long Duk Dong [gong!] or the Allison Reynolds or the Ducky to sing that song. But all these years later, I realize that it's Jake Ryan's song too. It might even be Richard Vernon or Ed Rooney's song.
The Pretty in Pink soundtrack from 1986 is the opera that Hughes had been building to. It's the first one where the sequence is crucial (opening with "If You Leave," by OMD and closing with "Please, Please, Please Let Me Get What I Want" by the Smiths). It's not a perfect record. Many of the artists here have released far superior songs earlier in their careers, from New Order to INXS (and certainly OMD's "Enola Gay," or "Tesla Girls" beats "If You Leave"). Echo and the Bunnymen's song is as good as anything they'd ever done. Which in 1986 was to say, jaw-droppingly so.
"Wouldn't It Be Good" is rendered by someone who is not Nik Kershaw, and for some reason the Psychedelic Furs felt it necessary to re-record the perfectly, well, perfect title track (the very first interview I did as a music writer was with Richard Butler's brother and the very first question I ever asked a rock star was "Why'd you do that, man?") But it's an important record. Pretty in Pink was the first soundtrack to an '80s movie that you could play like an album. Everything that followed through the next decades, from Less Than Zero to Trainspotting to Rushmore sort of owes it a pair of underpants (girls underpants).
Yes, I just IM'd with a pal to commiserate and he pointed out that Long Duk Dong was just long duk wrong ("The Donger is a badly dated, racist stereotype" — Gong) and that (apologies again to Ira Newborn and the Geeks whose ethnicity I am not certain of), Jesse Johnson (ex-Time) and Joyce Kennedy are the only black artists who appear on the Trilogy soundtracks in an era when new-wave funk and certainly hip-hop were in thrilling ascension. I suppose there's only so much you can do after uniting the sushi eaters and the granulated sugar eaters.
After Pretty, John Hughes movies were competing with John Hughes culture, as the "alternative" was already surfacing fast (the Cure, Depeche Mode and U2 were playing stadiums). You can gauge this shift by the soundtracks as well. Weird Science always annoyed me, probably because the aforementioned Oingo Boingo had so many superior songs ("Only A Lad," "Private Life," and the immortal "Little Girls"). The big hits off Ferris Bueller's Day Off were "Oh Yeah," by Yello, which was already a cult hit, and "Twist and Shout" by the Beatles, which was already the Beatles.
I just dug out Some Kind of Wonderful, and forgot that I owned a copy on vinyl, if that gives you an idea of how inessential it is. Maybe I had it in my head to DJ "I Go Crazy" by Flesh for Lulu, a big hit on WLIR radio back in the day. Or the March Violets Stones cover. Certain not "Brilliant Mind," by Furniture. Still, staring at Eric Stoltz and Mary Stuart Masterson and (less so) Lea Thompson, is getting to me. It was such a world he created, an understanding between the audience and the auteur. We really trusted the guy, didn't we?
Hughes became an appropriately Salinger-esque recluse for much of the '90s and this decade. I once attempted to interview him for an oral history I was working on about Vacation. I was wished good luck. When I did interview Anthony Michael Hall (really his alter ego) he said, with affection, "He's more like Howard Hughes now."
Maybe it was the "Macaulay Period," that caused him to vanish — it certainly could have subsidized a hermit — but that is an appraisal for another writer to take up when they think about the '90s. It's the '80s kids I'm thinking about now. First Michael. Now John Hughes.
God. What a cruel summer.
Marc Spitz is the author of the novel How Soon Is Never (which contains a chapter called "Oh John Hughes, Up Yours," in which the narrator rails against Ally Sheedy's makeover). His biography of David Bowie (Bowie: A Biography) will be published on October 27 by Crown.