Their retro dance anthems are deft exercises in geek chic, so it makes perfect sense for Portland-based buzz Hockey to recruit two budding stars of nerd cinema for their brand new music video.
Paper Heart actors Charlyne Yi and Paul Rust meet on the dancefloor in the band's clip for "Song Away," the second release from their forthcoming album, Mind Chaos (out Oct. 6). After Rust busts out some ridiculous gyrations, accidentally sending his boat shoes soaring through the air, right into Yi's noggin, awkward turns to endearing in no time and the party kicks into high gear.
That carefree, fun-loving attitude extends to singer Benjamin Grubin's lyrics: "This is believe-me music," he croons. "This is forget-me music / This ain't no Roxy Music."
If this clip is your first taste of Hockey, you should know that the band's summer festival sets at Sasquatch and Bonnaroo have quickly made them a breakout act to watch, and they're featured in the September issue of SPIN, out next week.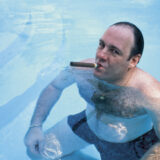 Watch the video below, check out Rust and Yi's geeky dance moves, and see if you become a believer, too.
WATCH: Hockey, "Song Away"