When one listens closely to the shoegaze-laced noise-pop of Denmark's Raveonettes, typically bands like the Jesus and Mary Chain or the Velvet Underground come to mind — with a tinge of classic '50s rock'n'roll tossed in for good measure. But according to the duo's guitarist Sune Rose Wagner, their influences extend a bit further than meets the ear.
For "Breaking Into Cars," a track from the duo's forthcoming fifth album, In and Out of Control (out Oct. 6 on Vice), Wagner explains that he and bassist Sharin Foo (the other half of the band) were culling from a very specific touchstone: Wu Tang Clan's classic track "Bring da Ruckus."
"We were trying to find sort of like a RZA type of snare sound that he has in that song," says Wagner. "[We] had to make it ourselves and it came out, you know, pretty close."
Though you won't be able to hear the final product — and that Shaolin snare drum — until October, when the record drops, you can catch a sneak preview of the song in the video below. The acoustic clip highlights the duo's snug-tight harmonies and the skeleton of what promises to be a choice cut.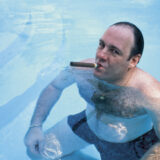 WATCH: The Raveonettes, "Breaking Into Cars"