An event that bills itself as Fun Fun Fun Fest sets the bar pretty high for itself, but this year's line-up indeed promises good times.
Danzig, Ratatat, Jesus Lizard, Of Montreal, Yeasayer, Mission of Burma, Fucked Up, and Les Savy Fav lead the acts set to take over the festival's four color-coded stages in Austin, Texas' Waterloo Park, November 7-8.
The festival lineup covers four broad genres — punk/hardcore, indie/progressive, hip hop/DJ, comedy/debauchery — and the eighty-plus artists run the gamut from retro rap (The Cool Kids) to shoegaze (Atlas Sound) to electropunk (Crystal Castles).The Whitest Kids U Know sketch troupe and Brian Posehn head the comedy lineup, sharing the Yellow Stage with indie popsters Destroyer, garage revivalists King Khan & BBQ Show, and more.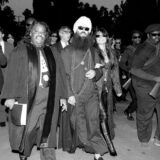 For the full line-up and ticket information, go to the festival's website.