Best of the San Francisco Music Scene
1.The Noisettes, Rickshaw Stop
1/15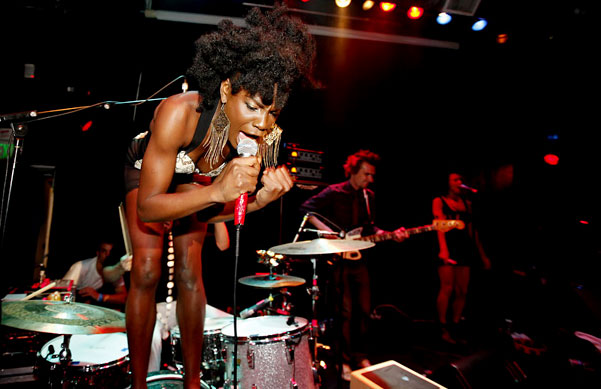 Recent SPIN Session performers the Noisettes are on our photograpers's list of must-sees. "[Singer Shingai Shoniwa] is always super fun to watch. She's definitely one of the people who, if they're in town, I'm going to see them because she puts on a real show."
2.The Noisettes, Rickshaw Stop
2/15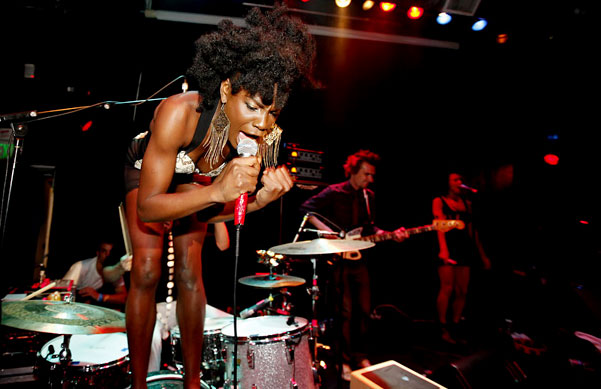 Recent SPIN Session performers the Noisettes are on our photograpers's list of must-sees. "[Singer Shingai Shoniwa] is always super fun to watch. She's definitely one of the people who, if they're in town, I'm going to see them because she puts on a real show."
3.Millionaires, Warped Tour, Pier 30/32
3/15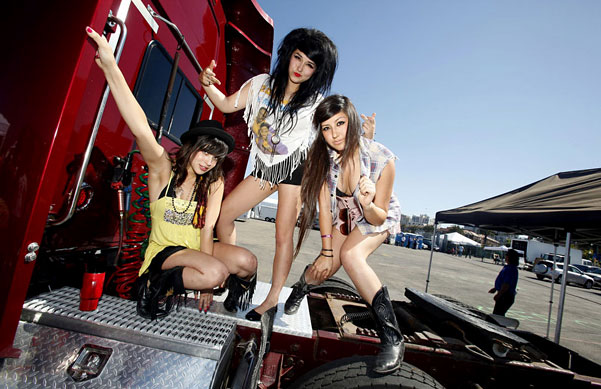 The three ladies in electro-pop outfit Millionaires don't look like the cautious types. But as SPIN photographer Misha Vladimirskiy, who took all the photos in this gallery, explains, looks can be deceiving. "I was backstage at Warped and there was this big truck. The band's road manager asked me if I'd shoot the girls on it.They were saying stuff like, 'Do you think we'll get in trouble?' I was like, 'I don't know. Do it and find out.'"
4.Green Day, HP Pavilion
4/15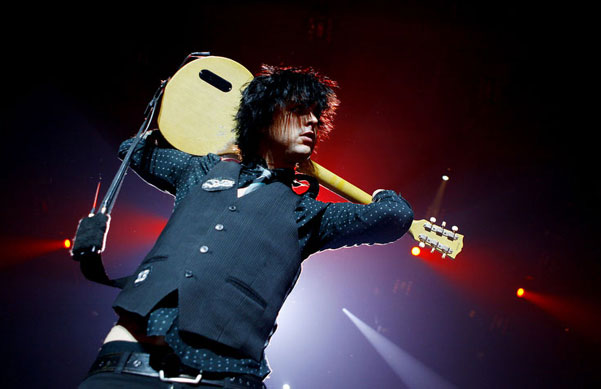 "It seemed like the guys in the band had their whole families at this show," says Vladimirskiy. "Four or five songs into the set, Billie Joe called his brother up on stage, and later he was making fun of his sister in the crowd." Family dynamics aside, "It was a great show. I've seen the band like 15 times and it's always amazing."
5.P.O.S., Warped Tour, Pier 30/32
5/15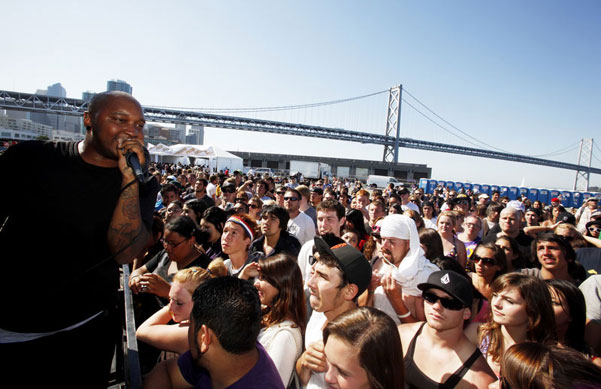 "The setting on the pier was really cool," says Vladimirskiy. "That's the Bay Bridge in the background." As for Minneapolis alt-rapper P.O.S., "The crowd knew every word. I didn't know him much before this show, but I was blown away. The last few years of the Warped Tour have been great with getting cool bands rather then the wannabe punk bands they used to get."
6.Jarvis Cocker, The Fillmore
6/15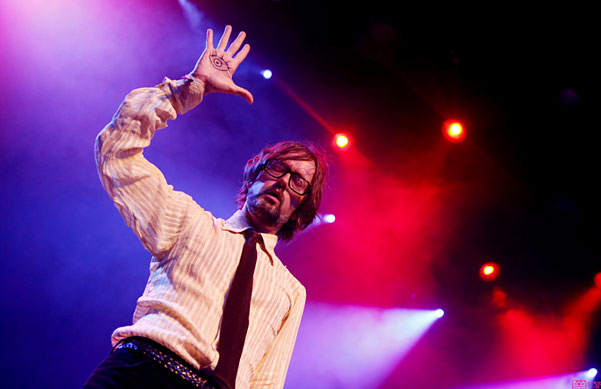 Playing a venue that shares a name with one of San Francisco's most storied rock halls, the ex-Pulp frontman showed he belongs in the pantheon. "He's so charismatic," says Vladimirskiy. "Shooting him, you understand why people love him. He's connecting with the audience every second. There's never a down moment."
7.Glasvegas, The Regency Ballroom
7/15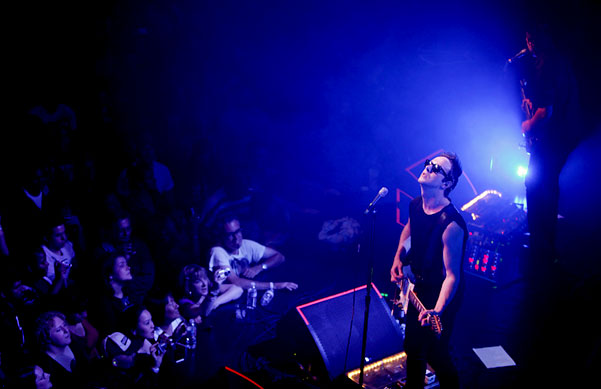 The anthem- and reverb-loving Scotsmen in Glasvegas also favor strobes -- not always a photographer's best friend. "The way the lighting is, they can be tough to shoot," admits Vladimirskiy, who took this photo from the club's balcony level. "But the mix of darkness and light really fits with the music."
8.Girls, The Rickshaw Stop
8/15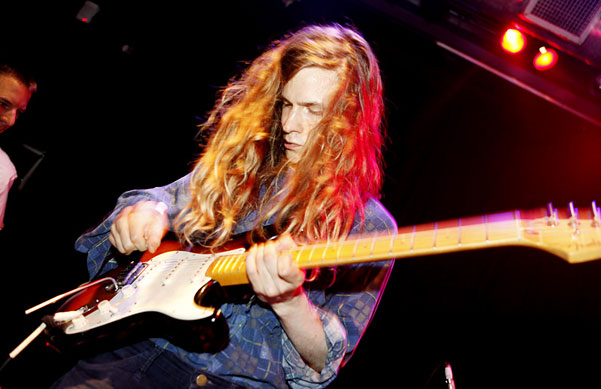 Opening for Pains of Being Pure at Heart, hometown garage-rockers Girls got the crowd moving. "Performance-wise, the band is actually pretty mellow. As a photographer, I don't think of them as a band that I have to see every time they play -- but the music is so fun that the crowd gets really into it. People were really dancing at that show."
9.Mickey Avalon, 330 Ritch
9/15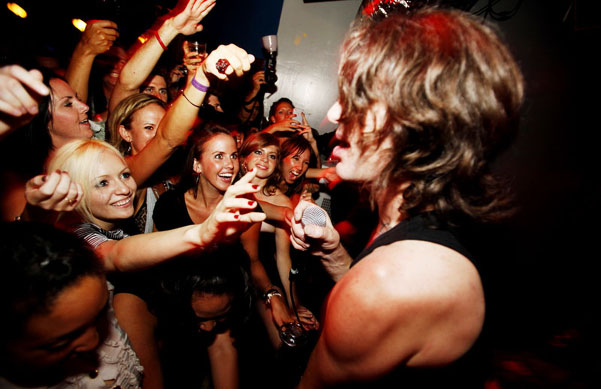 "This was an afterparty for the show he played with Snoop," says Vladimirskiy about this shot of the Hollywood rapper. "The way the girls are in that photo is the way they always are for him. They go nuts. I don't get it. He's an ugly son of a bitch."
10.Michachu and the Shapes, The Rickshaw Stop
10/15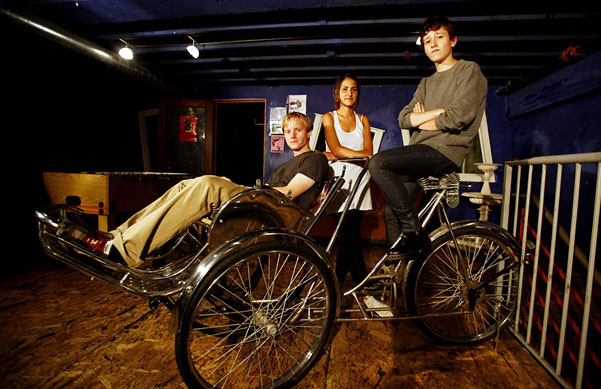 Our photographer put the club's namesake vehicles to good use in this shot of the jaggedly poppy London trio. "They were filming a TV interview at the club, and [drummer Marc Pell] was in the driver's seat for that, but when I had a chance to shoot them, I thought it would be funny for him to switch seats with Michachu." After all, singers get enough perks.
11.Asher Roth, Regency Ballroom
11/15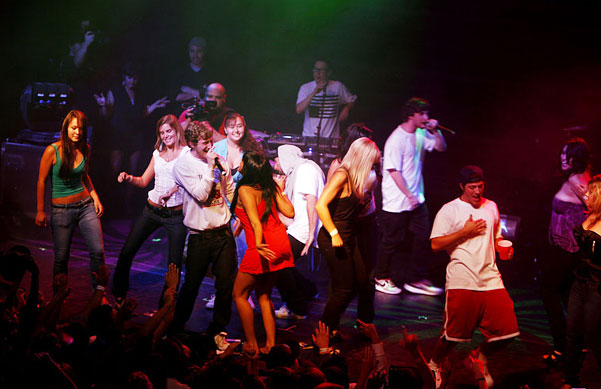 According to Vladimirskiy, Asher Roth is no dummy. "When he asks girls from the audience to come up on stage, a lot of them try to get pretty nasty with him and he always pushes them away. If he has a girlfriend, he's being smart. And if he doesn't, it looks really funny on stage. Either way, it works."
12.Hey Champ, 330 Ritch
12/15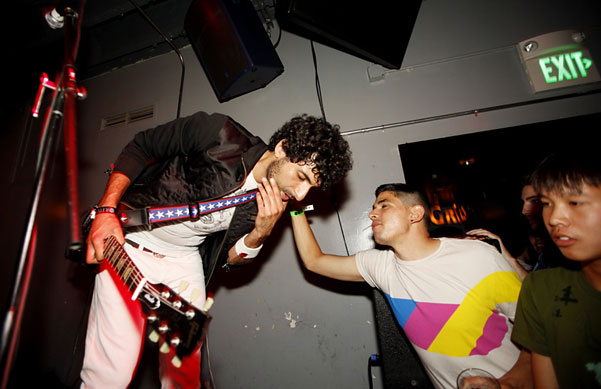 Requests are a standard part of the live experience, but at this gig from the Illinois disco-rock trio, an audience member asked for something unusual. "I'm not sure if it was the guy you see or a friend of his, but someone had just come back from a tour of duty in Iraq and the dude wanted the guy from Hey Champ to say something about it."
13.Yeah Yeah Yeahs, BFD Festival, Shoreline Amphiteatre
13/15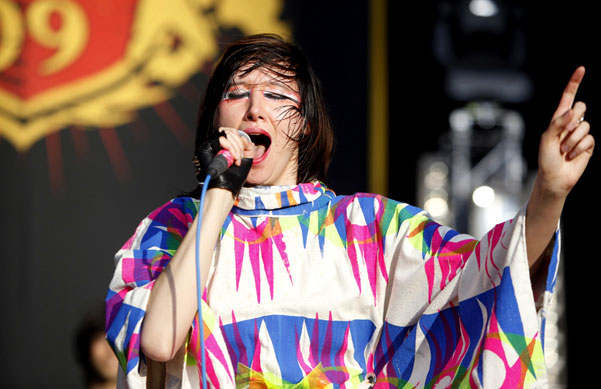 "They're amazing to shoot. Karen O is so badass. She has amazing stage presence. I've never seen them do a show where I think, 'Really? This is what you're doing?' They kill it every time."
14.Hockey, 330 Ritch
14/15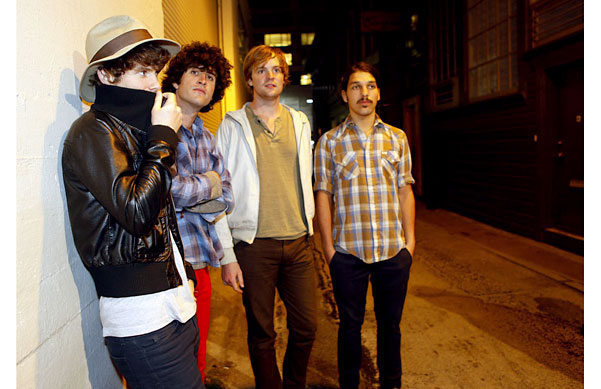 "This is an alley behind the club," explains Vladimirskiy. "A strange thing happened just after this, though. This lady had been watching -- that was weird by itself because this isn't an alley people usually walk down -- and then when we were done, she asked the band if they would write a song for her. They were like, "No." Then she started telling them about her pillow company. It was surreal."
15.Ida Maria, The Regency Ballroom
15/15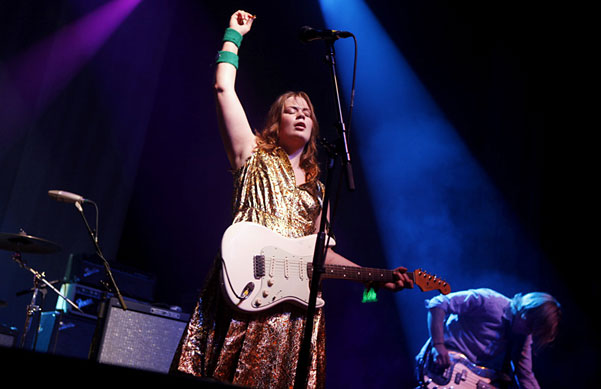 Opening for Glasvegas, the Norwegian spitfire made some new fans, says Vladimirskiy. "People were asking me, 'Who is this girl? What's her deal?'" The audience talked with its wallet, too. "I saw her merch table later in the night, and she'd obviously sold a lot of stuff. You can understand why. She always looks like she's having a great time on stage. I've seen her go absolutely bananas."