Beastie Boys' Adam Yauch, a.k.a. MCA, sent an email blast this morning, Aug. 5, updating his health status following surgery to remove a cancerous tumor from his parotid gland, the discovery of which caused the cancellation of the band's scheduled concert appearances behind their recently completed album, Hot Sauce Committee. You can read the email below.
The update contains positive news and follows up on the good vibes sent his way at last weekend's All Points West festival, when Karen O of the Yeah Yeah Yeahs wore a "Get Well MCA" armband and Jay-Z and Coldplay covered the Boys' classics "No Sleep Till Brooklyn" (the former) and "Fight For Your Right" (the latter) to honor the band, who were originally slated as fest's headliner.
Read Yauch's letter — formatting left intact — below. Thankfully, it sounds like the dude's doing okay all things considered: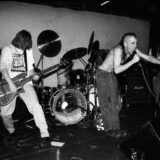 hey all,
hope you are doing well.
so i'm about a week and a half out of surgery now and rapidly recovering from it. i haven't taken any of the pain meds, which supposedly speeds along the healing process, or should i say, taking them slows it down. anyway, i spent 1 night at the hospital after the surgery. the hospital was too crazy to get any rest so i headed home to relax, have home cooked food and hang out with the family.
i'm pretty well detoxed from the anesthesia that they pumped me up with to keep me under for all that time. that took several days to get out of my system. my neck and jaw are still pretty stiff from the surgery, but it gets better everyday. had the stitches out this past monday… so things are moving along.
but no sooner am i on the mend from this first torture than are they lining up the next one. the next line of treatment will be radiation. that involves blasting you with some kind of beam for a few minutes a day, 5 days a week, for about 7 weeks. that will start in a few weeks…
saw the jay-z cover of no sleep, and the coldplay one of fight for your right from APW on youtube. good shit. and i heard karen o wore a "get well MCA" armband, and that q-tip gave a shout out too….. very kind of them.
just wanted to thank them and everyone else who sent positive thoughts my way. i do think that all of the well wishes have contributed to the fact that my treatment and recovery are going well.
much love back at all of you!
adam