With a pulsing piano melody and skittering, rave-style beats, Bloc Party's new song "One More Chance" is the perfect soundtrack for a night on the dance floor. But in the tune's just-released music video, the lads have something else in mind — an evening at home with the world's creepiest family!
In the clip for "One More Chance" — Bloc Party's only release since 2008's Intimacy — the quartet invade a totally screwball family's suburban home and watch on as their lives unfold: the overly-energetic father, sporting thick serial killer eye glasses and mutton-chops, forces drummer Matt Tong to watch him tap out a tune on his keyboard; the scantily-clad mother locks frontman Kele Okereke in the bathroom, gets all gussied up, and then has a mental breakdown; the pony-tailed brother blasts a boom box and tap- and break-dances for guitarist Russell Lissack; and the young daughter recruits bassist Gordon Moakes for a Ouija board session — which ends in a demonic disaster.
Adding to the weird factor: The song's lyrics about "giving love one more chance," which — only by a gigantic stretch of the imagination — have any applicability to the video's visuals. But hey, you never know — the 'burbs really are batshit crazy! Prepare to be creeped out.
Check out the video below. Then tell us what you think in the comments section.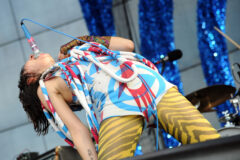 WATCH: Bloc Party, "One More Chance"
https://www.youtube.com/embed/FOm5z2KIDJg