Every Spoon show in Austin, TX, has nostalgia attached to it.
Early gigs at the now-closed Sound Exchange on the University of Texas campus, shows at Emo's in the late 1990s, and even more recent performances at dives like the Scoot Inn are markers in any Austinite's personal history. Even now, Spoon's influence looms large over the capital city's scene: There's not another local band that can fill the amphitheater at Stubb's three nights in a row, especially in 102 degree heat.
This weekend, Stubb's was a microcosm of Austin's diverse music scene. Cowboys in starched Wranglers, young skater kids, well-kept college students, parents of performers, and a veritable who's who of the indie crowd filled the yard at Waller Creek each night.No one else has this sort of sway over Texas's music lovers, except maybe Willie Nelson.
Spoon's economical approach to songwriting makes their live shows something of a treat.A discordant guitar solo in the middle of "The Beast & Dragon, Adored" and a missed note in "My Little Japanese Cigarette Case" brought grins to the faces of loyal fans. Even the band's screw-ups are received happily, mostly because of the compelling contrast between the live mistakes and the pristine album versions.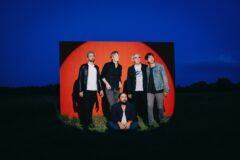 Overall, however, Spoon played perfect live versions, using the depth of their catalog to woo the audience. Favorites like "Rhythm and Soul," "Chicago At Night," and "The Underdog" (with the Grupo Fantasma horns) were highlights. The crowd was also treated to oldies like "Car Radio" (from 1998's A Series of Sneaks) and "My Mathematical Mind," complete with angular guitar solo.
The few new songs Spoon played sounded great, too, particularly "Writing To You In Reverse," a punchy tune reminiscent of Joy Division.
Among the strong supporting acts Thursday night was Black Joe Lewis & the Honeybears, who oozed the charisma and rock'n'roll swagger they've become known for. After the show, Lewis said, "I had no idea if folks would show up early to see us considering how hot it is, so we were kind of worried. But man, they did."
Quasi — filling in for …And You Will Know Us By the Trail of Dead, who mysteriously left the bill midweek — performed to a crowd made up of faithful fans and new recruits. The Portland outfit, comprised of husband and wife team Sam Coomes (Pink Mountaintops, Heatmiser) and Janet Weiss (Sleater Kinney, the Jicks), along with new full-time bassist Joanna Bolme, pleased the crowd with their trademark upbeat tunes paired with gloomy lyrics. Coomes ditched the synths for a guitar, enabling the highlight of their set: a raucous jam session featuring Weiss' prowess on the drums.
Austin-based country crooner Dale Watson opened the show Friday night, bringing with him a long Texas history. He took the stage in an impossibly hot tuxedo coat, acknowledging the seeming oddness of his position in the mix of bands. "I'd like to thank the Spoon guys for inviting me out here tonight," he said, adding, "I hope you like what you hear, but if you don't, just drink more." He promptly rolled through a classic Watson set, blending his favorite trucker tunes with country classics like Merle Haggard's "Mama Tried" and Johnny Cash's "Ring of Fire."
On Saturday, local upstarts the Strange Boys' jangling throwback garage sound was a perfect way to begin the night. The youngsters rocked through songs from their latest release And Girls Club before handing the stage over to Bradford Cox (Deerhunter), who performed solo as Atlas Sound. Cox's quiet set featured his shoe-gazing guitar work and multiple loops softly layered against lyrical themes of isolation and loneliness. Never a downer, Cox quipped about "hanging on" through his set to the eager crowd.
All the opening acts brought their own magic to the weekend, but at no point did anyone come close to stealing the show. Spoon have spent 15 years building a fanbase all over the world, but they are just arriving when it comes to the reputation of their live show. Happy sing-alongs and the ability to keep a thousand or so people quiet with songs like "The Ghost of You Lingers" set them apart from almost every other major touring act around, and get us excited for the new album, due "sometime in 2010."
Spoon / Photo by Aasim Syed
Click to enlarge