Today, the world will say goodbye to one of its biggest, most talented stars: Michael Jackson.
Jackson, who died at 50 on June 25 due to cardiac arrest, will be honored with a tribute at Los Angeles' Staples Center; some 17,500 fans won tickets to the event, which begins at 1 P.M. EST/10 A.M. PST.
The public memorial will be preceded by a private funeral at Hollywood's Forest Lawn Cemetery, TMZ.com reports.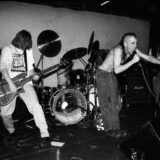 According to CNN, cemetery officials have worked with Jackson's family members over the past week to prepare for the ceremony. Jackson's sister, La Toya, among others, was seen Monday night coming and leaving the cemetery, which was secured by police. A hearse was seen arriving at the cemetery with at least five police cars in tow, and backed into a 1,200-seat auditorium on the grounds, obstructing any view from swarming media helicopters.
Following this morning's private funeral, Jackson's body will be moved to the Staples Center for the public memorial. Usher, John Mayer, and Mariah Carey are all expected to perform at the event, which will also be attended by a star-studded list of Jackson's friends and fellow musicians, including Kobe Bryant, Berry Gordy, Jennifer Hudson, Magic Johnson, Martin Luther King III, John Mayer, Lionel Richie, Smokey Robinson, Rev. Al Sharpton, Brooke Shields, and Stevie Wonder.
SPIN will be Twittering from behind-the-scenes at the Staples Center tribute beginning at 10 A.M. PST / 1 P.M. EST. Read all the updates here.
Jackson's longtime friend, actress Elizabeth Taylor, and the mother of two of his children, Debbie Rowe, will not attend the ceremony. In a message posted to her Twitter account, Taylor said she declined an invitation to speak at the event because she "cannot be part of the public whoopla."
"I just don't believe that Michael would want me to share my grief with millions of others," Taylor wrote. "How I feel is between us. Not a public event."
The city of Los Angeles is prepared for the influx of traffic, which is headed mostly to four locations — the Staples Center, Neverland Ranch in Santa Barbara, the Jackson Family home in Encino, and Forest Lawn Cemetery. More than 1.6 million fans registered in an online raffle Saturday for tickets to the Staples Center event, with 8,750 fans from around the world randomly chosen to receive a pair of tickets. Those winners and more packed the parking lot at L.A. Dodger's Stadium Monday, where they had until 9 P.M. PST to pick up their tickets. Thousands of others hoping for a lucky break also turned up to the grounds.
Police have brought in concrete barriers to surround Staples Center, granting access to ticket-carrying fans beginning at 6 A.M. PST / 9 A.M. EST. Local hotels are booked for miles. Movie theatres have even announced special screenings of the event, which will be carried by several major networks. [CNN]
"I anticipate the crowd here will be well-behaved," said Jim McDonnell, Los Angeles' assistant police chief. "It will be a crowd that gathers for the right reasons and keeps the reason they're there in mind." More than 3,000 police officers have been assigned to the memorial.
The investigations into Jackson's mysterious death have continued, most recently with the DEA joining forces with the L.A.P.D. to further probe those surrounding Jackson — including his personal physician — for clues regarding his health and prescription drug use/abuse.
Meanwhile, a Los Angeles Superior Court judge has granted control of Jackson's assets (the singer was rumored to be more than $400 million in debt) to the executors of his will — John Branca, Jackson's longtime personal attorney, and John McClain, a music industry executive and longtime friend. They are able to tend to Jackson's debts and business obligations, until another hearing on Aug. 3.