Radiohead mastermind Thom Yorke has released a cover of alt-rock band Miracle Legion's "All For The Best." Listen here.
The song is part of a new tribute album — Ciao My Shining Star: The Songs of Mark Mulcahy — which helps to raise money for the Miracle Legion singer-songwriter, who has left music to care for his three-year-old twins since his wife's sudden death last fall.
The album drops September 29, and in addition to Thom Yorke it features covers by Frank Black, Michael Stipe, and Dinosaur Jr., among others.
Yorke's cover transforms the band's original version (off their 1987 debut, Surprise Surprise Surprise) into an electronic song with discordant guitar and melodic humming. It's a great cover, totally unique while still retaining the spunk of the original.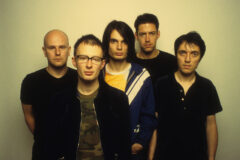 Ciao My Shining Star tracklist:
1. Thom Yorke – "All For The Best"
2, The National – "Ashamed Of The Story I Told"?
3. Michael Stipe – "Everything's Coming Undone"?
4. David Berkeley – "Loves The Only Thing That Shuts Me Up"?
5. Dinosaur Jr. – "The Backyard"?
6. Chris Harford & Mr Ray Neal – "Micon The Icon"?
7. Frank Black – "Bill Jocko"?
8. Vic Chesnutt – "Little Man"?
9. Unbelievable Truth – "Ciao My Shining Star"?
10. Butterflies Of Love – "I Have Patience"?
11. Chris Collingwood (Fountains Of Wayne) – "Cookie Jar"?
12. Frank Turner – "The Quiet One"?
13. Rocket From The Tombs – "In Pursuit Of Your Happiness"?
14. Ben Kweller – "Wake Up Whispering"
15. Josh Rouse – "I Woke Up In The Mayflower"?
16. Autumn Defense – "Paradise"?
17. Hayden -"Happy Birthday Yesterday"?
18. Juliana Hatfield – "We're Not In Charleston Anymore"
19. Mercury Rev – "Sailors And Animals"?
20. Elvis Perkins – "She Watches Over Me"?
21. Sean Watkins – "A World Away From This One"