The feud brewing between Eminem and Mariah Carey (and her husband, Nick Cannon) doesn't look like it's going to let up anytime soon.
The Detroit rapper just released a new dis track, "The Warning," in response to Carey's video for the song "Obsessed," in which she dressed up as an Eminem look-alike and sang, "Why are you so obsessed with me?" Though she later denied that the song had anything to do with Eminem, many believed it was a response to the Eminem track "Bagpipes from Baghdad," off his latest album, Relapse, in which he raps about stealing Carey away from Cannon.
Carey has long refuted Eminem's claim that the two dated for six months in 2001, but the pop diva might not be able to keep up her denials for much longer. On "The Warning," Eminem threatens to release evidence that the two were once a couple.
"Oh gee, is that supposed to be me in the video with the goatee? / Wow Mariah, didn't expect ya to go balls out / Bitch, shut the fuck up before I put all those phone calls out / You made to my house / When you was wilding out / Before Nick, when you was on my dick," he raps.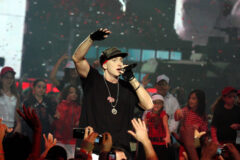 There could be some substance to his threats — at the end of the track, Em plays snippets of what sounds like Carey's voice, referring to herself as "Mary Poppins" and cooing "I want you."
Em's new song doesn't spare Cannon, who wrote a lengthy MySpace blog trashing Eminem after "Bagpipes from Baghdad" was released. "You gonna ruin my career? / You better get one," Em raps. Ouch.
LISTEN: Eminem, "The Warning"