Two years ago, Scott and Seth Avett were summoned by the Wizard of Rock. Apparently Rick Rubin had liked Emotionalism, their fifth album of love-drunk country rock, and wanted to grant them an audience, high in his Malibu home overlooking the ocean. The pair met with the bearded guru and soaked up nourishment from an altogether different plane than their North Carolina hill country hinterland. "I had some of the best ginger tea I've had in my life," Seth says with a laugh.
Such is the humble, unfussy way of the Avett Brothers — singer-pianist-guitarist Seth, 29, singer-banjo player Scott, 33, and bassist Bob Crawford, 38. True to their ragged, rustic sound, the band climbed the ladder the old-fashioned way. "Rather than playing one show and getting a ton of money or popularity, we played 2,000 shows," Seth says — and without exaggeration. Since their inception in 2000, they've averaged more than 200 performances a year.
Growing up, Scott and Seth were surrounded by music. Their dad quit his country band to raise the family and their grandma played organ in the church where the boys sang. After the dissolution of their first project, a rock outfit in the vein of Dinosaur Jr., Seth says they had an "awakening to true American roots music." Now they meld the two styles, blowing out crowd-surfing banjo solos and emo-bluegrass ballads. Along with Willie Nelson, the Avetts are among the elite few who've played Coachella and the Grand Ole Opry.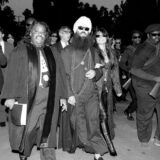 Last summer the band recorded their new album, I and Love and You (American/Columbia, Sept. 29), with Rubin over two ten-day sessions in Malibu. Neither brother can pin down exactly what induced him to give them the nod. ("The way Rick's mind works is the way Rick's mind works," Seth says.) Rubin encouraged them to experiment more with their arrangements and, most important, to slow down their songs. In general, taking things slow seems to be the Avett approach. "I don't wanna self-destruct," Scott says. "I wanna make as much music as I can in my life."