Best of the Seattle Music Scene
1.Paramore, White River Amphiteatre
1/16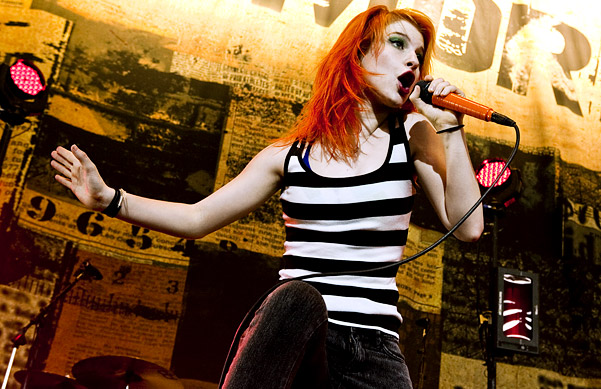 Seattle area photographer and SPIN.com contributor Alex Crick, who snapped all the shots in this gallery, noticed something different about Paramore's Hayley Williams this year. "She's always an awesomely energetic performer, but when she was here last year for Bumbershoot her hair was more of a light orange. Now it's a fiery red." The verdict? "It's better. It contrasts awesomely with the yellow backdrop." -- David Marchese
2.Paramore, White River Amphiteatre
2/16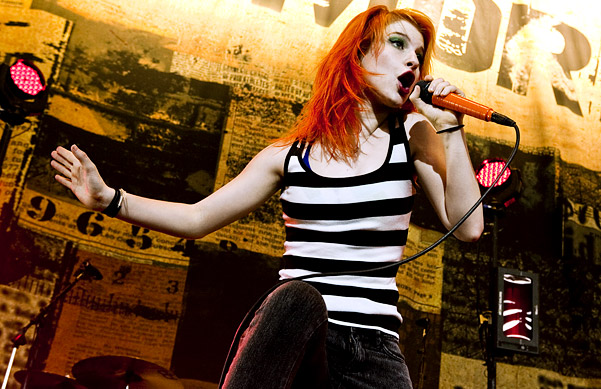 Seattle area photographer and SPIN.com contributor Alex Crick, who snapped all the shots in this gallery, noticed something different about Paramore's Hayley Williams this year. "She's always an awesomely energetic performer, but when she was here last year for Bumbershoot her hair was more of a light orange. Now it's a fiery red." The verdict? "It's better. It contrasts awesomely with the yellow backdrop." -- David Marchese
3.Trivium, Mayhem Festival
3/16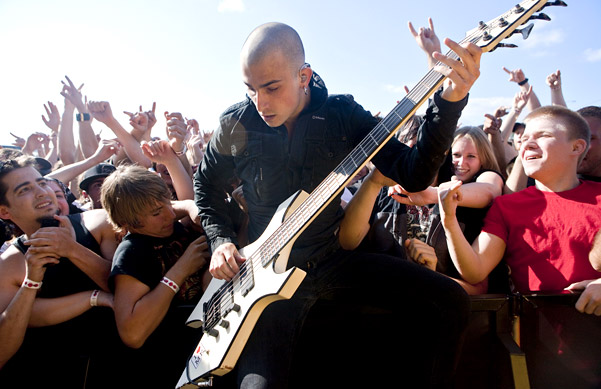 "This was a really fun band to shoot," says Crick of the veteran Florida metalheads. "They're so active, running around everywhere and singing into each other's microphones." For this particular photo, though, Crick needed a moment of relative calm. "When the guitarist was in the crowd, I was like, 'Please stay there long enough for me to get the shot!'"
4.Matisyahu, Moore Theatre
4/16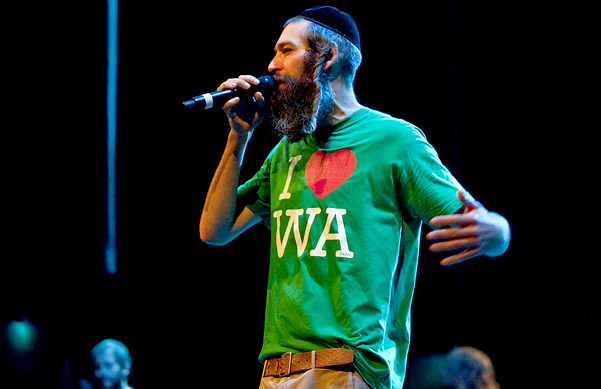 Not surprisingly, everyone's favorite orthodox Jewish reggaeman had some, uh, unorthodox fans. "It was a really mixed crowd, but I was most surprised to see this group of five little kids standing near me and having a great time," says Crick. They looked like 3rd or 4th graders. After the show someone came up and gave them all backstage passes." That Matisyahu is such a mensch.
5.Green Day, Key Arena
5/16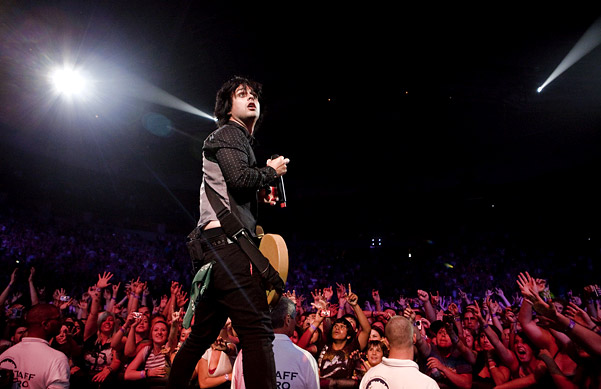 The anti-establishment big shots lived up to their rock star reputation at this tour-opening gig. "They really put on a show that's worth shelling out for," says Crick. "There's so much energy coming from the stage. You can see it in the way the fans are reaching out towards Billie Joe. Seeing him alone with everyone straining to touch him gives you a sense of the dynamic that night. It was amazing!"
6.PJ Harvey & John Parish, Moore Theatre
6/16
Alt-rock's reigning dark songstress presented some obstacles for our photographer. "We were only allowed to shoot her for two songs," explains Crick, "and for the first song she was holding maracas in front of her face the whole time. I didn't think I was going to get anything good."
7.Slayer, Mayhem Festival
7/16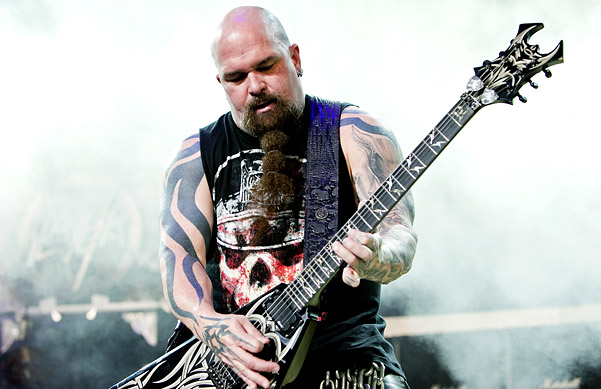 Slayer guitarist Kerry King was exactly as imposing as he looks. "He's just a super intense performer. The guy's played 1000 shows, but you wouldn't know it from how heavily he gets into it. He kept coming back to the photo pit and screaming at us to take his picture." Also, adds Crick, "Smoke machines are awesome."
8.No Doubt, White River Amphitheatre
8/16
"You can't help but focus on her abs," says an admiring Crick about Gwen Stefani. "She would do this move where she'd sort of bend forward and then launch herself back, which is what you see her doing here. It's almost like she's getting her workout in onstage." And this is after two kids.
9.Killswitch Engage, Mayhem Festival
9/16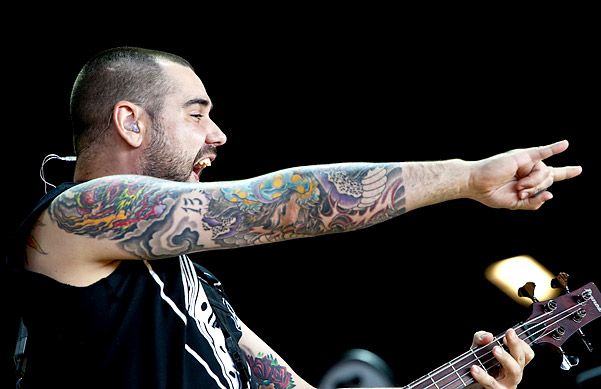 What would a metal show be without someone throwing devil horns? "It's kind of a classic image. [Bassist Mike D'Antonio] is actually a lot less animated than the other members of the band. This is one of the few moments during the show when he was doing anything interesting." But as you can see, D'Antonio did at least have some "very impressive tattooing."
10.White Rabbits, Crocodile Café
10/16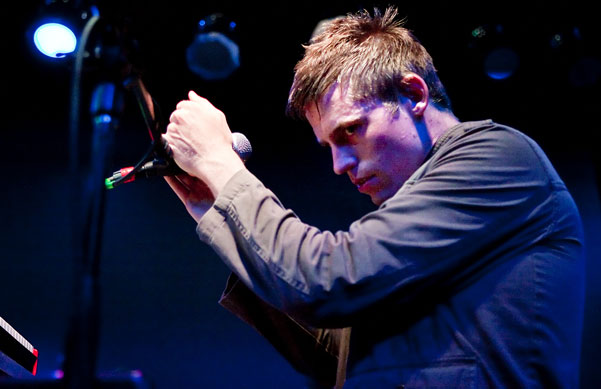 "He's got that deathly look in his eye," is how Crick describes this shot of Stephen Patterson, singer-pianist for moody Columbia, Missouri, indie-rockers White Rabbits. Crick says there was a bit of a bad vibe in the club the night of the band's show. "A lot of people were complaining because this was a weekday show and the band didn't come out until midnight. It ended up being a fun show, though."
11.The Decemberists, Marymoor Park
11/16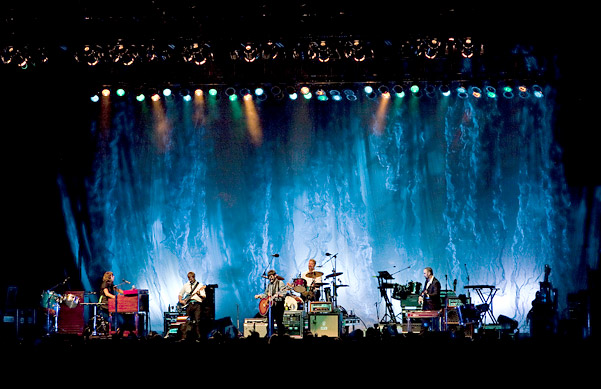 This outdoor venue is good for picnics, but not necessarily good for rocking out. "Because it's in a public park, there's a really early curfew -- like 10 P.M. Because of that, the band tried to shove in as many songs as possible. They did three encores, Including a cover of a classic from a local band. When they played Heart's 'Crazy on You,' the crowd went nuts."
12.United State of Electronica, Neumos
12/16
"This show was part of a benefit for the local station KEXP," explains Crick. "One of their DJs invited all his favorite bands to play." Among them were dance-rockers United State of Electronica. "They have these girls who are sort of quasi back-up singers, but their real job is to get the crowd excited. They do a great job of it. Everyone in the crowd was jumping around and having an awesome time."
13.Tori Amos, WaMu Theater
13/16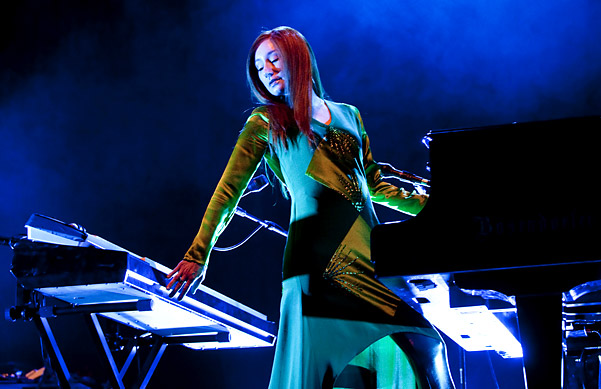 Photographers were granted unusual access to the red-haired singer-songwriter. "We all got there an hour before the show," recalls Crick, "and Tori came out and played one song. There were no shots allowed during the actual show. At first it was weird not having a crowd there, but then it was nice -- I didn't have to worry about fans blocking my shot. And not many people can say they've had a private Tori Amos concert!"
14.God Forbid, Mayhem Festival
14/16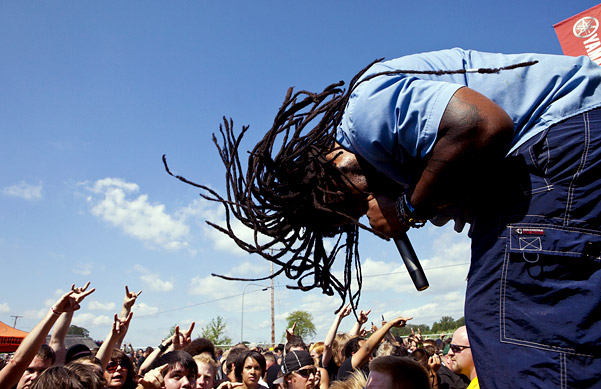 The mundane parking lot location of the Mayhem festival's side stage didn't stop New Jersey metal monsters God Forbid from whipping the crowd into a frenzy. "Just seeing [singer Byron Davis] headbang in time to the music was enough to get people excited," gushes Crick, who captured Davis in mid-bang. "I really think I caught his dreads at the perfect moment."
15.The Detroit Cobras, Neumos
15/16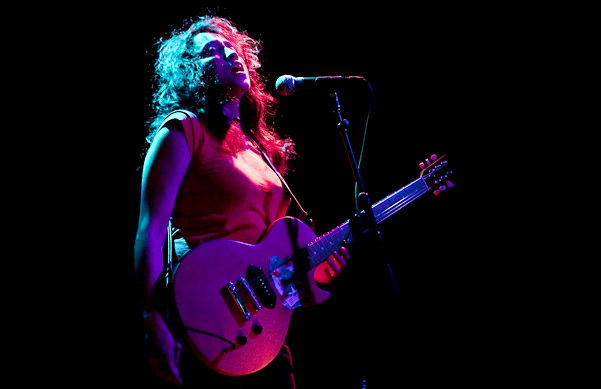 Motown faves the Detroit Cobras brought a welcome shot of garage rock sass to this club gig. "The singer has this really deep whiskey-and-cigarettes voice, and the guitar player has such cool stage presence. They both bring so much attitude. The black background and the lighting were awesome, too."
16.Drums of Death, Showbox
16/16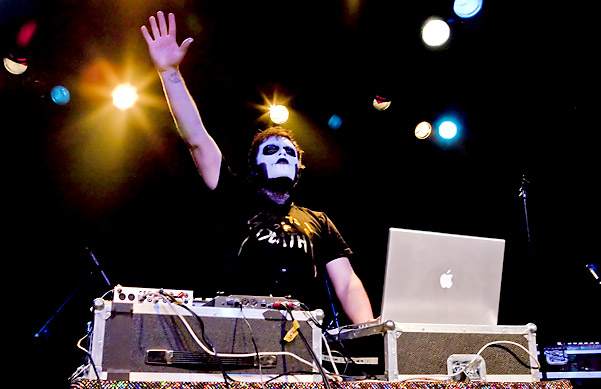 No, this is not a scene from Triumph of the Will 2: The Undead. "Drums of Death was opening for Peaches. He has this cool uptempo electronica sound. You expect him to be goth or something with a name like that, but the music is really upbeat. He even got jumped into crowd at one point and was dancing around."