New York hip-hop veteran Nas and Bob Marley's youngest son, Damian, have joined musical forces and are hard at work on their first album, Distant Relatives — and you can check out a video of their creative process below!
"This project is to come together and do some music on behalf of Africa — that is really what the whole thing is about, to bring awareness [about poverty and other social ills]," Marley comments in the clip, directed by Nabil Elderkin (who recently helmed Kanye West's video for "Paranoid").
In the video, the duo make beats, lay down rhymes, and work with a children's choir, all while preaching a positive message. "I got one chance to say what I have to say right now," Nas proclaims. "They have to wake up. It's not a matter of us saying 'who are we to tell you to wake up' — you have to wake up."
Check out the video below. You can catch Nas and Damien Marley headlining this year's Rock the Bells traveling hip-hop festival, and at this weekend's Rothbury festival in Michigan — they're one of SPIN's 11 must-hear bands on the bill.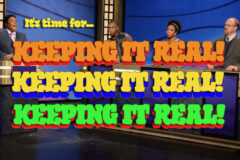 WATCH: Damian Marley & Nas, "Distant Relatives" Preview