In a candid video post on his band's official website, Beastie Boy Adam "MCA" Yauch revealed that he's being treated for a cancerous tumor in his parotid gland, and that his band will cancel their upcoming tour dates and push back the release of their new album, Hot Sauce Committee Part 1, which was due Sept. 15.
"About two months ago, I started feeling this little lump in my throat, like you would feel if you had swollen glands," Yauch said in the video, with bandmate Adam "Adrock" Horovitz at his side for moral support. "I actually have a form of cancer … in a gland called the parotid [salivary] gland, and it's also in the lymph node."
"I have to have surgery, probably next week, and after that, I'll have to have radiation, localized in that area," Yauch continued. "The good news is that they did scans of my whole body, and it's only localized in this one area, and it's not in an area that affects my voice, so that's nice."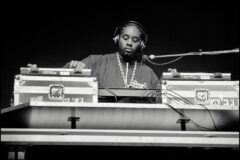 The rapper went on to mention that his form of cancer is usually quite curable, and that he's discovered the tumor very early.
Yauch also apologized profusely to anyone who'd made plans to see the Beasties' upcoming appearances, which included August festival sets at New Jersey's All Points West, Chicago's Lollapalooza, and San Francisco's Outside Lands; a headlining gig at the Hollywood Bowl in September; and Texas' Austin City Limits in October.
"We'll be back doing this soon," he said confidently.
Watch the full video from MCA and Adrock right here: