When an early version of Deerhunter frontman Bradford Cox's second album under the Atlas Sound moniker leaked to the internet last summer, the Atlanta native was peeved."Fuck this shit," he wrote to his blog at the time. "It's not finished and now it never will be."
Well, much like fellow DIY-er Trent Reznor, Cox sometimes changes his mind."I did not react well to the leak, in retrospect," he wrote in a press release for his new album, titled Logos, which is, in fact, finished and will be released on October 20.
After all the leak drama, though, Cox is done with self-analysis. Logos is "not about me," he wrote of the new album's lyrics. "[They're] not autobiographical. The view is a lot more panoramic and less close-up. I became bored with introspection."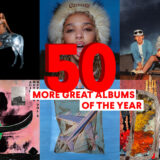 Joining Cox on the disc are Stereolab's Laetitia Sadier and Animal Collective's Noah "Panda Bear" Lennox, whose contribution stemmed from a tour bus game in which Cox and Animal Collective took turns playing iPod DJ.
"During one of these games, someone played 'What Am I Going to Do' by the Dovers," he writes. "I was amazed at the hook — a weird organ thing with drums and electric bass. I mentioned to Noah that someone should really sample that riff. He agreed and he taught me a little about sampling and matching up beats. This ended up as the collaborative effort 'Walkabout.'"
Logos follows last year's Let the Blind Lead Those Who Can See but Cannot Feel. But where that album emanated a polished sheen, Logos aims for spontaneity.
"Almost everything you hear on the album is a first take," Cox wrote. "This makes it almost like a 'live album' where a band sets up in a studio and just rolls tape."
Ever loquacious, Cox has plenty more to share about Logos. Read his full note and check out the tracklist at Pitchfork.