It's already been made abundantly clear that Lily Allen doesn't suffer fools.
But the Brit pop tart's latest music video for It's Not Me, It's You tune "Fuck You" really drives the point home.
The track, which includes lyrical swipes that seem aimed at former president Bush, sees Allen giving the middle finger to people who are homophobic and racist and narrow-minded in every way. Fair enough.
But in the accompanying music video, Allen's ill will seems a little more indiscriminate. With super-villain type power, the singer uses her thumb and forefinger to distort the faces of irritating tourists, bounce a jogger off a bridge, and deface the Eiffel Tower. To be fair, it's not all evil deeds: She also expands a passerby's 'fro, plumps up a woman's tush, and transforms a bland storefront into a hip indie record store facade.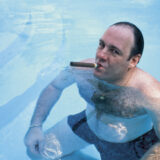 Watch Lily Allen's video for "Fuck You" below. Then use your super powers in comment section.
WATCH: Lily Allen, "Fuck You"
https://www.youtube.com/embed/q1P4_YCFtkQ