It seems self-confidence is in short supply among rock stars these days: Chris Martin recently warned that Coldplay's next record might suck — and now Flaming Lips leader Wayne Coyne has doubts about the psychedelic band's forthcoming double album, Embryonic.
"It's harder than you would think," Coyne told BBC 6 Music of completing Embryonic for its planned September release. "We want to go in so many strange directions and sometimes we're unfocused and sometimes we're just so wishy washy. I think it must be like being a cook in the kitchen — you're preparing this great thing, but by the time it's ready you're sick of it because you've been smelling it, you've got it in your hair and in your fingers and all that."
"It's great and thrilling but kind of scary because you just don't know if it's going to work," he added.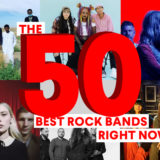 The upside? An abundance of tunes: "There's only a couple of things [songs] we recorded that we probably won't use," Coyne said of the band's copious amount of material. "Everything else we're going to use."
Do you think Flaming Lips' double album will be a hit like the Smashing Pumpkins' Mellon Collie and the Infinite Sadness? Or will it flop… like the Red Hot Chili Peppers' Stadium Arcadium? Tell us what you think in the comment section.