The finished version of Kanye West's music video for 808s and Heartbreak single "Paranoid" has been released — and it's like a sexy Sin City with Rihanna as the star!
The clip, which follows last week's leak of a test cut, was directed by Nabil Elderkin (the man behind the trippy clip for 'Ye's "Welcome to Heartbreak") and flaunts a comic book vibe with its black-and-white visuals and pop-up lyrics. But Rihanna is without a doubt the highlight, writhing around in a barely-there outfit and driving a car down a dark road at atop speed. Rihanna is back — take that, Chris Brown!
For the "Paranoid" video, Kanye recorded a different version of the song from the album version, adding synthesizer and Auto-Tuned croons to flesh out its disco-funk bounce. And after a foray into singing on Heartbreak, it looks like the Chicago-bred star is ready to ditch the Sinatra routine and return to rapping on his next record.
"It's time for me to bust another rap album," West told MTV.com. "I kill that rap shit. I'm working on lyrics right now, they're 'awes-mazing'. They're basically untouchable, and I'm about to take it to a whole 'nother level. I'd be scared if I was not me." So much for humility, eh?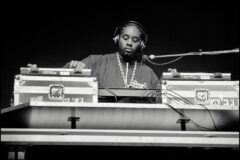 "As far as rapping goes — how do we word this?[Michael] Jordan, Michael Jackson, it's what I do," he added, comparing himself to two of the world's greatest Michaels (what, no Michael Bolton?).
Check out the clip for "Paranoid" below. Then toot your own horn in the comments section.
WATCH: Kanye West, "Paranoid"
https://www.youtube.com/embed/zaW1r2150O0