Hey, remember Jet? Those four shambolic Aussies whose ubiquitous, Iggy Pop-aping first single, 2003's "Are You Gonna Be My Girl," appeared in TV shows, video games, movies, and commercials for iPod and Budweiser? Well, they're back, and if you liked 'em (or hated 'em) the first time around, you'll dig (or totally not dig) their new single and its sorta funny, sorta perplexing, sorta clever music video.
The band's sound hasn't changed a bit: "She's a Genius," off their August 25 release Shaka Rock, mashes up AC/DC guitar grit, T. Rex pomp, and back-to-basics pop songwriting.
The video, however, finds the Aussies on some other trip:
A werewolf hops on a BMX bike and hits the town, forcing its way into rock clubs, shoving ice cream cones in Witness and Brick actor Lukas Haas' face, and flipping some scantily-clad ladies the bird. Then we find out this werewolf person is wearing a mask, and underneath that mask we discover a total cutie.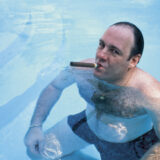 What?! We looked to the lyrics to explain the video's bizarre lupine action, but found only this: "If what you know is who you are / Then she's everything / She don't feel no shame / That girl's a genius." No help, Jet.
What do you think? Tell us in the comment section below.
If you love what you hear, see Jet perform this summer — for FREE! — at Merriweather Post Pavilion in Columbia, MD, just outside the Baltimore and Washington, DC, areas.
WATCH: Jet, "She's a Genius"
https://www.youtube.com/embed/IVA799gKNzo