Dresden Dolls songstress Amanda Palmer and Coraline author Neil Gaiman joined forces for SPIN.com's Liner Notes event June 3, playing songs and reading stories for an intimate crowd of 300 — with all proceeds going to the Housing Works AIDS charity. Couldn't score a ticket to the event? Don't fret: You can watch the best moments right here, right now!
Below are four video clips of Palmer and Gaiman's performance:
1) Amanda Palmer, "Dark Come Soon" (Tegan and Sara cover song)
Boston-based Palmer pays homage to Tegan Quin, whose performance at SPIN.com's debut Liner Notes event last fall provided inspiration for Palmer to take the stage.
2) "Who Killed Amanda Palmer" / "Astronaut"
Brit author Gaiman reads a passage from Who Killed Amanda Palmer, the upcoming photo book featuring the singer staged in various poses of death, for which he wrote the ghastly text. Palmer follows Gaiman's reading with "Astronaut," a tune about life after love goes awry.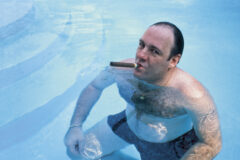 3) Neil Gaiman, "Feminine Endings"
Gaiman reads a macabre new story about a man who works as a living statue — and ends up stalking a young woman he has never met. Coincidentally, as Gaiman explains in the clip, Palmer once worked as a human statue in Boston's Harvard Square.
4) Amanda Palmer and Neil Gaiman, "I Google You"
The Dresden Doll taps the keyboard on this comic torch song about Googling a lover. She wrote the chords, he wrote the lyrics.