Head bangers, rejoice: thrash metal titans Slayer have announced that their ninth studio album, World Painted Blood, will be released late this summer. The album will drop after the band wraps the Rockstar Energy Drink Mayhem Festival tour with Marilyn Manson.
As the follow-up to 2006's Christ Illusion, the new album was recorded in Los Angeles with producer Greg Fidelman, who has previously worked with Metallica, Slipknot, and the (International) Noise Conspiracy.
Last fall SPIN.com joined Slayer in the studio and filmed the guys recording the new album. Watch our footage here.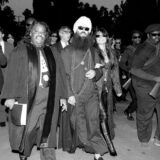 Guitarist Kerry King told Billboard.com that the album is different than any they've recorded in the past. For one thing, King and fellow guitarist Jeff Hanneman both contributed equally to the writing process.
"I like when Jeff writes as much as he did for this record," King said. "When you have one guy doing most of the writing you only get one perspective. A lot of Jeff's stuff has a very punky vibe this time; the stuff I write sounds thrashy but with a hint of punk, and when Jeff writes the stuff is more punk with a hint of thrash. It works together well."
King also said that World Painted Blood is the first album the band has composed in the studio — usually, the boys come in with songs already prepared, but this time, they wrote while they recorded. "I was kind of thinking, 'Man, this could be the first record in a long time that's got a little bit of filler,'" he said. "But I think every song came out great."
The 13-track album includes "Beauty Through Order," "Unit 731," "Playing with Dolls," "Public Display of Dismemberment," "Americon," "World Painted Blood," and"Psychotherapy Red," which Slayer released as a limited-edition seven-inch for Record Store Day on April 18.