What better way to welcome Eminem back to the media spotlight than by sitting on his face on live television… in ass-less chaps.
Which is exactly what Borat funnyman Sacha Baron Cohen did last night at the MTV Movie Awards ceremony at the Gibson Amphitheatre in Los Angeles.
The fracas began when Cohen, in the guise of homosexual Austrian fashion reporter Bruno, flew on a wire above the audience while wearing angel's wings and a Roman-era leather skirt. Cohen then experienced a few "technical difficulties" with his stunt, and was flipped upside down, revealing his butt. The controversial funnyman was then lowered right into the lap of Marshall Mathers himself — his exposed ass directly connecting with the hip-hop phenom's face!
"Get this mother—-er off me, man!," Em shouted as his bodyguards frantically rushed to remove Cohen. The Detroit rapper and his entourage then stormed out of the auditorium as the remainder of the crowd — including one totally perplexed Zac Efron — looked on.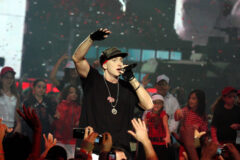 For those who doubt this event was staged (say hi to Santa and the Easter Bunny for us!), remember that Eminem just released his first album in five years and Cohen's new movie, Bruno, hits theaters July 10.
WATCH: Brüno Presents Best Male Performance
MTV Shows