What is this — a friggin' French invasion?
First it was Phoenix, who blasted back to reclaim our hearts, and now their partners in Parisian crime, electro-pop duo Air, have announced the October 6 release their new album, Love 2.
The record's first single, "Do The Joy," drops digitally on July 7, with an August 25 physical release planned for Love 2's second single, "Sing Sang Sung," which the band describe as a "summery pop anthem."
The duo — Jean-Benoit Dunckel and Nicolas Godin — recorded their fifth studio album and follow-up to 2007's Pocket Symphony at their newly constructed Atlas Studio in Paris. For the first time in their 14-year career, they produced the entire album by themselves. Los Angeles drummer/percussionist Joey Waronker, who joined Air for their tour of Southeast Asia last fall, appears on the record, as well as frequent collaborator Stéphane "Alf" Briat.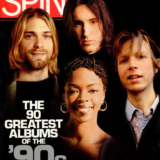 Though dates have yet to be announced, Air plan to tour the U.S. in the spring of 2010.
Check out the tracklist for Love 2 below.
Love 2 tracklist:
1. "Do The Joy"
2. "Love"
3. "So Light Is Her Footfall"
4. "Be A Bee"
5. "Missing The Light Of The Day"
6. "Tropical Disease"
7. "Heaven's Light"
8. "Night Hunter"
9. "Sing Sang Sung"
10. "Eat My Beat"
11. "You Can Tell It To Everybody"
12. "African Velvet"