In case you missed the MTV Movie Awards last night — or only half-watched it, like I did — here's our verdict on the night's hot topics:
Eminem v. Bruno — Was Em in on the joke? I'm about 67% convinced that he was. While Eminem seems far too cranky to willingly participate in a prank that involved Baron-Cohen's gay character Bruno descending from the ceiling to rest his junk in Mathers' face, everyone is fighting for attention these days. Audiences are busy flitting from one YouTube clip to the next, but this stunt has the potential to keep us talking about Eminem at least until Wednesday — so maybe it was worth two balls to the face. Plus, speaking of balls, does MTV have any? Would they really allow one of the few platinum selling artists in attendance to be ambushed (hee) like this without telling him?
OMG, Miley Cyrus — She made me squirm when, after winning Best Song, she big upped God and then told Samberg, "I'm on the boat!"Miley is like that girl from high school who thinks she's plucky and popular but, in reality, her classmates only like her because her parents have a pool. Obviously, there's nothing wrong with believing in God, but believing that he had anything to do with who gets a popcorn statuette from MTV kinda trivializes his authority, no? And then reaching out to Andy Samberg like those two could possibly share a joke?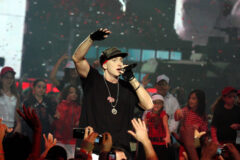 Hottest Actress Around, Kristen Stewart — The misery of K-Stew needs to end. Yes, she is doomed to complete three more Twilight movies, and while that probably makes the star who's set to play Joan Jett in the Runaways biopic feel lamer with every passing sequel, she isn't doing herself any favors by acting so unimpressed by it all. Last night, she looked like she'd rather be shot into space than have anything to do with the movie franchise that has made her famous. She rolled her eyes at costar R Patz during one of his acceptance speeches, deliberately mumbled an introduction to the clip of New Moon and dropped her statuette for Best Performance. Her unease is understandable — especially considering that her better movie, Adventureland (a.k.a. the best movie of 2009) was totally ignored last night — but her undisguised apathy is a little tacky.
Token Apatow alum, Jonah Hill — In under two minutes, Hill managed to crack a joke about Vanessa Hudgens' and Zac Efron's lack of pubic hair, and then faked a boner when Robert Pattinson took the stage. Considering that all of those stars probably appeal to an audience that has only just hit puberty themselves, it could have been icky. Well, actually, it was icky and I laughed anyway. In the absence of Seth Rogen and Co., all of whom would presumably rather get stoned at this point than attend the Movie Awards, Hill seemed to be saying, "Don't forget me, Apatow!" But his inappropriateness was legitimately funny.
"Old Timer," Cameron Diaz — Poor Cameron. Like Ben Stiller and Jim Carey, her presence last night felt parental. She tolerated "old" jokes from Abigail Breslin, picked up what looked like the remains of K-Stew's broken trophy, and threw herself into Samberg's skit with Fred Armisen by doing a little dance during their fake intervention. Despite not having much of an aptitude for sketch comedy, she tries (see her multiple guest appearances as a cougar on SNL) and it often feels like she's rushing to beat other people to the punch line before she gets branded the Loneliest Spinster in the World (Jennifer Aniston is waiting to be relieved).
Host, Andy Samberg –Just like he does for SNL, Samberg brought "youth savvy" to the MTV Movie Awards (read: he referenced Keyboard Cat). And since every year the crowd grows significantly tweenier, it worked. His spoofs incorporated some of the most ridiculous scenes from last year's hit movies (the poop jump in Slumdog, the Edward-smells-Bella's-blood-for-the first-time-and-looks-revolted moment from Twilight). As a comedian, Samberg seems to prefer to get celebrities in on the joke rather than make fun of them, which sometimes seems like a bid for their friendship. But, then again, poking fun at the cast of the Hills, Twilight and High School Musical would mean laughing at half of last night's audience. Of course, Samberg also spent a good deal of time big-upping his own Lonely Island songs. "Cool Guys Don't Look at Explosions" was an amusing observation that stretched into an over-long skit, but the star-studded performance of "Dick in a Box" was more entertaining than either live guest Kings of Leon or Eminem. He should host every year until he, too, is deemed too old (which will be in about two years).