Janet Jackson paid emotional tribute to her brother Michael at Sunday night's BET Awards, responding to an audience-wide standing ovation by saying, "To you, Michael is an icon. To us, Michael is family. He will forever live in all of our hearts."
Holding back tears, Janet said, "On behalf of my family and myself, thank you for all of your love, thank you for all of your support. We miss him so much. Thank you so much." [Via MTV.com]
Janet's emotional tribute came after recent revelations from Michael's onetime nanny, who, in a story published by London's Sunday Times newspaper, said that she had proposed a drug invention for Michael, attempting to enlist his mother Katherine and sister Janet for their help.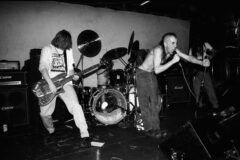 "I had to pump his stomach many times. He always mixed so much of it," the nanny, Grace Rwaramba, said in reference to the star's alleged drug use. "He always ate too little and mixed too much."
But Mallika Chopra, who is both "best friends" with Rwaramba as well as being the daughter of spiritual teacher, medical doctor, and close personal friend of Michael's, Deepak Chopra, cast doubt on the validity of the Times piece in a post to her website on Sunday: "For the record, Grace never pumped Michael's stomach. She has no idea how she would even do such a thing." [Via People.com]
Rwaramba is expected to be interviewed by LAPD detectives investigating Jackson's death.
Meanwhile, the Jackson family has taken up their own investigation, ordering a second autopsy, following the L.A. County coroner's initial examination.
Reverend Jesse Jackson explained the family's motivation in doing so during an appearance on Good Morning America on Friday, saying that they still had a host of unanswered questions, including several for Dr. Conrad Robert Murray, the cardiologist and "personal physician" who was by Jackson's side on the day of his death.
"When did the doctor come? What did he do? Did he inject him? If so, with what?" Reverend Jackson said. "Was he on the scene twice? Before and then reaction to? Did he use the Demerol? It's a very powerful drug. Was he injected once? Was he injected twice?"
A lawyer for Murray has since insisted that reports that the doctor had administered drugs to Jackson before his death were false, saying, "There was no Demerol. No OxyContin." [Via Los Angeles Times]. He added that Murray was equally perplexed by Jackson's death. "He was the one who suggested the autopsy to the family while they were still in the hospital. He didn't understand why Michael Jackson had died," he said.
As the questions continued to mount, so did the global tributes. At the BET Awards, guests arrived wearing white King of Pop gloves; and performers covered his songs, including Ne-Yo's take on Jackson's "Lady in My Life," Ciara's cover of "Heal the World," actress Keke Palmer's version of the Jackson 5's "Who's Loving You," and a duet from Jamie Foxx and Ne-Yo of the Jackson 5's "I'll Be There."
At UK festival Glastonbury, performers also voiced their appreciation: Rapper Dizzee Rascal took time out of his set to prompt a Jackson-themed dance party with a medley he'd crafted with his DJ; both the Streets' Mike Skinnerand Soulwax covered "Billie Jean"; Little Boots covered "Earth Song"; and legendary pseudo-band Spinal Tap claimed "without Michael Jackson there would be no Tap." [Via guardian.co.uk]
And celebrities of a different sort worked overtime to show their admiration: The Phillipino prisoners who created a web-wide frenzy with their "Thriller" dance video choreographed an all-new homage.