While the investigation into Michael Jackson's untimely death persists, new information about the star's final projects continues to emerge.
It seems that Jackson had recently wrapped work on an elaborate 3-D video project in his final weeks.
The production, titled the "Dome Project," was planned as a visual component of his 50-date concert residency at London's O2 Arena.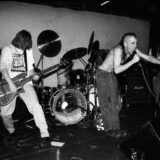 Vince Pace, whose company provided cameras for the 3-D production described it to the Associated Press as "a groundbreaking effort" that would have resulted in the audience's perception that "they were visiting the 'Thriller' experience, like they were there." He added, "To think that Michael's gone now, that's probably the last documented footage of him to be shot in that manner."
An unnamed source commented that while Jackson "walked with a spring in his step" on-set, he also looked "willow-thin" and "pallid," and at one point needed assistance descending the stage stairs.
The production reportedly featured elaborate sets including a cemetery, a large mural of Jackson wearing his "Thriller" werewolf costume, a lush jungle, and a construction site. One scene was said to feature "scantily-clad male dancers wearing carpenter's belts."
The project was in post-production at the time of Jackson's death, and was due to be completed next month. No word yet on how, if at all, the video footage will be used.
Meanwhile, Black Eyed Peas founder Will.i.Am has revealed that the unreleased material he produced for Jackson was to be a stylistic departure for the King of Pop.
"It was going to be out of this world. It's something Michael has never done before — a dance music album." He told UK tabloid The Daily Mirror.
"I was very proud of it," he added. "But he was very protective and kept it under lock and key. After we made it I had to hand back every demo. He was a perfectionist and didn't want anyone to hear it until it was ready."