Back in March, word got out that Spike Jonze and Kanye West were set to work on a mysterious short film together. The news came with the uber-general description that it would be "based on an idea Spike had."
Well, the film finally screened at the Los Angeles Film Festival last night, and judging from reports, it sounds like Jonze may have had a brainstorming session or two with Alien director Ridley Scott.
The short film, titled We Were Once A Fairytale, begins with Kanye West stumbling around a club drunk and bragging about his genius as a remix of 808s and Heartbreak tune "See You In My Nightmares" plays in the background. [Note: West is playing himself.]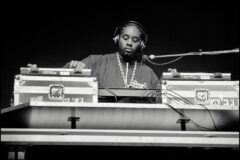 West then breaks from taking musical credit to have sex with a woman in a leopard-print dress in the VIP room — until he passes out mid-act. But when he wakes up, it turns out he was actually hallucinating the whole thing and his partner in naughtiness was none other than a pillow. It's enough to make anyone sick to their stomach, and West makes a beeline for the bathroom to throw up — rose petals of course.
Kanye (obviously having referenced WebMD) attempts to get to the source of the problem by cutting open his stomach — where he finds a furry critter and severs the umbilical cord that ties them together. Then, West, being the polite dude that he is, offers the little invader a knife so he can kill himself.
So, just another night in Kanye-ville, really.