Since Pavement split in 1999, frontman Stephen Malkmus has earned the most attention as a solo artist. But the release of The Real Feel, Pavement guitarist Scott "Spiral Stairs" Kannberg's awesome solo debut, may change that. Judge for yourself by listening to "Maltese Terrier," the record's excellent lead single — available as a free download below!
With gleeful bah bah bahs that recall Pavement's "Cut Your Hair," this tune sounds like the soundtrack to an early '60s sock-hop where everyone's drinking acid-spiked punch. It moves from an upbeat rhythm and psychedelic guitar riff to a banjo breakdown reminiscent of Modest Mouse's "Bukowski" — certainly a departure from the sleepy rock of Kannberg's first post-Pavement band, Preston School of Industry.
The song is fun, catchy, and full of the same silly witticisms that made Pavement so damn great.
The Real Feel drops Oct. 20 and features contributions from Broken Social Scene's Kevin Drew and members of the Posies and Preston School of Industry. The Posies' Jon Auer produces.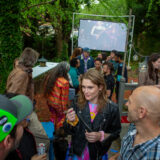 LISTEN: Download: Spiral Stairs, "Maltese Terrier"(DOWNLOAD MP3)